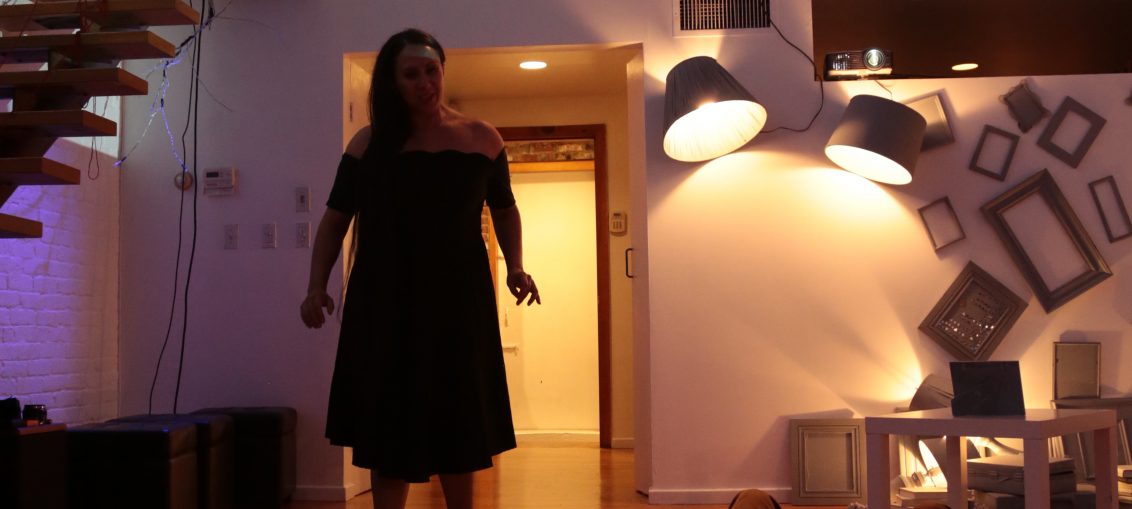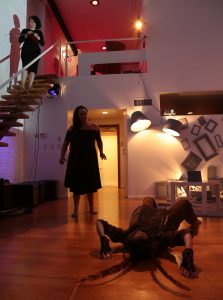 "I am so mysterious that I don't even understand myself."
Clarice Lispector (1920-1977)
Ukrainian-born Clarice Lispector achieved fame as a 23-year-old in her adopted country of Brazil with the publication of her first novel, Near to the Wild Heart.  In the four decades following her death, biographies and translations led to her re-evaluation as an early innovator of the male dominated Latin American "Magic Realism" movement.  The Jewish author has never been more popular, "her" Twitter feed @RecitoClarice has one million followers.
There are many ways to present someone who wrote "to save somebody's life…probably my own."  Group. BR, New York City's only Brazilian theatre company, chooses an appropriately paradoxical theatrical one with Inside the Wild Heart.  Company co-founders Andressa Furletti and Debora Balardini's homage to Lispector is both an intimate and large-scale immersion using Aich Studio's three floors.
Furletti and Montserrat Vargas' set design and art installations include basic biographical background items.  Quotes are written and/or projected on walls.  Lispector's only interview runs on a video loop.  Manual typewriters, reams of paper and rooms stuffed with books represent a writing life .  Attendees can add their own thoughts with markers and paper left on the terrace and on the Miracle Tree in the loft bedroom.
Yet in visually representing Lispector's command of the interior monologue, this seemingly perfect artistic sanctuary is anything but. Among the memorable reminders that creativity is neither safe nor easy are ominous religious objects of all faiths dispersed through the townhouse, the same painted flower design overwhelms like a thick forest, books spine backwards on shelves, canopied beds resembling coffins and curtains hanging like ghosts
Though it is that time of year, Inside the Wild Heart is not a haunted house and is not for children.  The barefoot cast performs disturbing vignettes based on Lispector's tales of obsession, dominance and cruelty.  Director Linda Wise maintains an aura of constant surprise and shock.  Actors run or tie themselves to stairways.  Routine household events are ritualized.  Over two-hour running time, audience members can follow the playlets of their choice.  Actors frequently interact with them, offering coffee and snacks from an operational kitchen…or asking about the meaning of life.
Along with Furletti Balardini and Vagas, the cast includes Fabiana Mattedi, Gio Mielle, Gonçalo Ruivo, Ibsen Santos, Patricia Faolli, Mirko Faienza. and Yasmin Santana.  Mario Forte provides live music and good company.  They are fully committed to the tales they tell and fill the large, unusual stage provided for them.
Inside the Wild Heart isn't performance art.  It's an opportunity to get to know Clarice Lispector and art in close quarters.
Inside the Wild Heart plays through November 18, 2018 at Aich Studio (218 East 25th St, NYC).
Tickets for an Installation Visit are available on eventbrite.  Please note that Installation Visit tickets do not include performance of the play.
Learn more about Group.BR on their website. 
Learn more about Clarice Lispector on her New Directions author page.