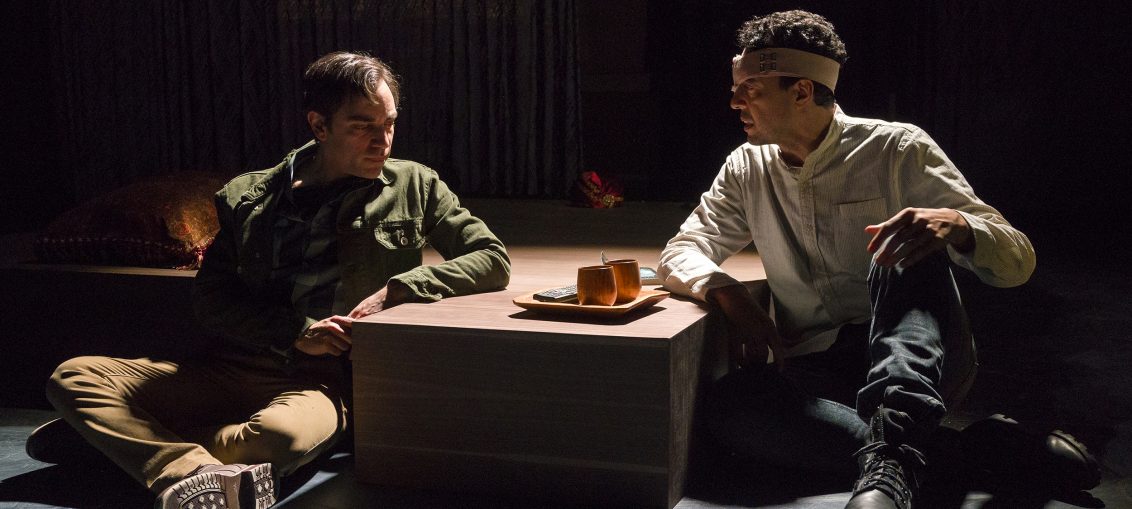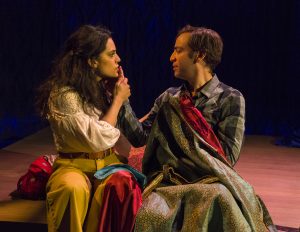 Humankind is made up of stories: the stories we tell others, those we tell ourselves, our version of the story, and even history is only a series of stories stamped with a seal of approval to be considered by the ruling power as "the truth," though it is no more than yet another observation or opinion on what transpired. Stories have the ability to make us — for they are the foundation where legends and heroes are born. But they also have the power and capacity to break us and tear us apart from our own kind, to separate us into false categories and inspire hate and fear. Stories have the power to heal…or destroy.
These are the themes explored in Prospect Theater Company's presentation of Jason Grote (book and lyrics) and Marisa Michelson's (music) breathtakingly beautiful, strikingly original and deeply sincere new musical: One Thousand and One Nights and a Day. The musical is inspired by the collection of Middle Eastern folk tales: One Thousand and One Nights, also known more commonly in English as Arabian Nights. The ancient Arabic tales, compiled during the Islamic Golden Age, center around the jealous and cruel King, Shahriyar, who kills each bride, in a succession of many, after their first night together to circumvent infidelity. His latest wife, Scheherazade, uses her wit and wiles (note: not her sexuality) to hold his intellectual interest by dazzling him with enchanting adventures and captivate his attention not only to spare her neck but that of the entirety of young women in her kingdom. Long story short (pun intended) — it worked.
However, One Thousand and One Nights and a Day is also based on Grote's play 1001, written and debuted over a decade ago, now transformed into a musical and revitalized with fresh, envigorated life. Maybe, like Shahriyar, a man is softened a bit with time, more open to other perspectives, less cynical. Of course, it doesn't hurt to have an incredible woman (or in this case, incredible women) by his side.
This is the true heart of One Thousand and One Nights and a Day, centered around Alan, an American Jew, who alternates dual roles as the ruler Shahriyar (played to utter perfection with depth, charm, likability and honesty by Ben Steinfeld) and Dahna, an Arab woman who has lived in America for most of her life (portrayed by the incomparable Sepideh Moafi, a rare package of the best of all worlds tied with the bow of genuineness, who also enacts the role of Scheherazade).
Grote, like most good writers, writes what he knows and one could venture that he relates himself to (or at least understands the world of) Alan, whose bumbling meet-cute with an exciting, feisty Palestinian woman with fire in her eyes and passion in her soul, is to approach her after a controversial question she posed at a Columbia University lecture on the BDS Movement. His suave pick up line: "I hope I'm not making you more aware of your 'otherness,' am I?" He then acts the hero to defend her from an aggressive opponent to her stance. Thus establishes their complex and nuanced relationship from then on throughout the production.
But instead of idealistic hopes that the challenges and issues in the world don't exist or can be stopped by the power of love (as some shows have attempted), One Thousand and One Nights and a Day embraces that they do exist (and very much so), as the characters struggle to grasp their real or enforced roles in their particular time and place in history. Yet Grote has found a way to soften some of the intellectual cynicism more prominent in 1001 and even previous workshops of this production, thanks largely to his trust in the incredible women involved.
Director Erin Ortman has brought the juxtaposed elements of past and present, fantasy and reality together seamlessly with truth and substance, choreographer Karla Puno Garcia ensured the movement and gestures propelled the narrative without ever distracting from its essential core, and even Prospect Theater Company's own Producing Director Cara Reichel said in the closing reception toast, " This is the kind of work Prospect has aimed to bring forth since our creation." The sense of sheer pride amongst all involved was palpable!
But it was composer Marisa Michelson's seraphim touch that lifted the piece to the heavens. Michelson's iconic musical explorations, most keenly felt with her Constellation Chor (of which members, including the exquisite triple threat Chad Goodridge, are prominently featured) whose Desire/Divinity Project earlier this year shook the walls of the historic Judson Memorial Church with resplendent sound, and Tamar of the River (which remains a Prospect Theater Company notable production) brought the beauty, sensitivity and exotic, ethereal allure to the show with her astounding songs. This is by far the most commercial work of traditional musical theater for Michelson, who favors and excels at the experimental, but it was with the help of the extraordinarily capable arranger/orchestrator and musical director, Kurt Crowley (who took 8 weeks off of his gig at the juggernaut Hamilton on Broadway take part in this show, which they gladly approved, to allow him creative freedom as they eagerly await his return). Crowley and his phenomenal band utilize Michelson's boldness and complete grasp of music's power to ignite emotions, to deliver a palatable sonic panorama which blends Middle Eastern melodies, operatic overtures, dystopian dissonance and primal rhythms seamlessly into the tapestry which weaves this tale.
Indeed, the score asks so much of its female lead, Sepideh Moafi (Dahna/Scheherazade), who has been charged with the near-impossible task of performing with such honesty, vulnerability, grace and strength paired with glass-shattering operatic vocals, that one cannot help compare her to another unique star: Sarah Brightman, Sir Andrew Lloyd Webber's former wife and muse, the original "Christine" from Phantom of the Opera, who in 2003 released an underrated album, Harem, whose themes and music could almost serve as a prelude to this production.
There is so much that can be said of this multi-layered production and its truly remarkable ensemble cast and creators, for without a single member of the team, the balance and brilliance of this ambitious achievement would surely be thrown off. The cast of only seven (and one swing) creates the multi-layered diasporas of New York City, the Gaza Strip and ancient, mythical Persia without ever feeling overwrought or cluttered. They are as diverse in appearance, background, and range as the show and New York itself; for since no one person could tell this tale, many do instead: man, woman, black, white, Jew, Arab, gay, straight and all in between lend their unique voices to this epic.
But lest the plot, with its oft exaggerated stereotypes (executed most brilliantly by Graham Stevens as "The One Eyed Arab," played with such magnificence and commitment that when he broke character, as per script, to explain his true ethnic ambiguity, the audience erupted with spontaneous laughter and applause), medieval and modern settings, and nonlinear narratives which mirror the labyrinthine complexities of the subconscious mind and memories (that are somehow never meandering or aimless, but quite the opposite: genuinely purposeful) confuse you, take comfort in the journey and delight in the adventure. View these moments as tiny breadcrumbs dropped alongside a path which will eventually lead to the explosive and affecting ending, leaving the viewer to retrace Alan's/Shariyar's steps and missteps which lead to Grote's heart-wrenching conclusion. But all in all, it's much like Scheherazade's own sagas: it leaves your heart pounding, mind spinning and only makes you desirous of more!
Running time is 90 minutes, no intermission. Playing through April 29th at The Mezzanine Theatre at A.R.T./New York Theaters, 502 West 53rd Street, New York, NY 10019.
For tickets and more information:
Tickets: https://web.ovationtix.com/trs/pr/982717
Information: http://www.prospecttheater.org/