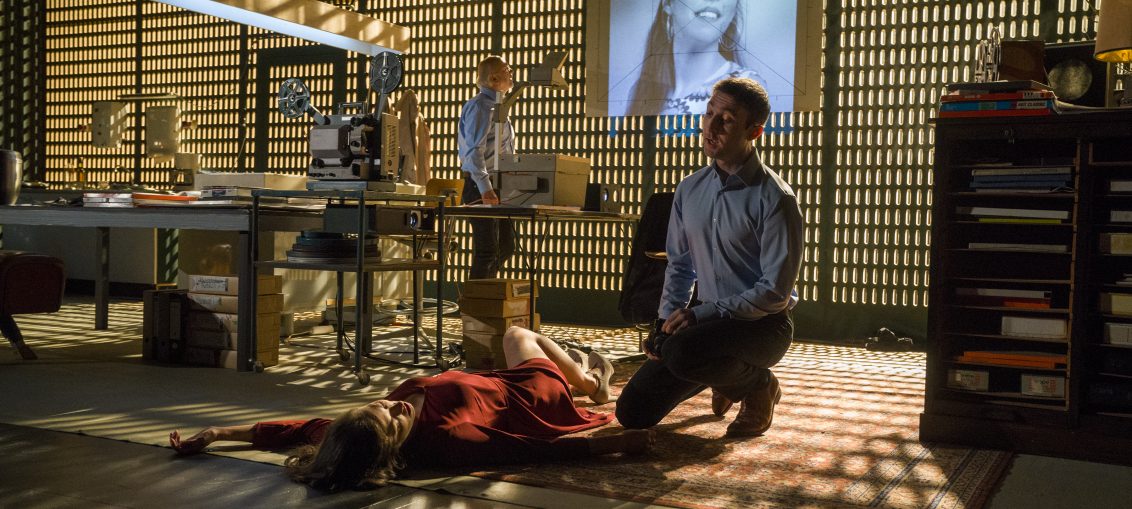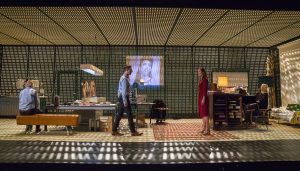 Obsession, fixation, unrequited love, chasing the muse and being haunted by a longing that can never fully be realized or consummated, but nevertheless continues to ignite flames of desire and creative sparks, are pervasive themes in Diary of One Who Disappeared. Muziektheater Transparant — a Flemish company devoted to sharing old-meets-new opera and musical theatre expressions for a wide audience — returns to their exploration of the autobiographical tormented love story of Czech composer Leoš Janáček's enchantment with Kamila Stösslová, a married woman nearly 40 years his junior and from a very different background to whom he wrote over 700 letters to during their 11 year correspondence. The new production is helmed by the lauded, internationally in-demand director Ivo van Hove, whose other productions have varied from avant-garde new works to adaptations and revivals, from small-scale to Broadway and back again. His productions tend to be minimalist, raw, often searing, complex and ocean-deep despite their simplicity. They have garnered both critical and audience acclaim as well as controversy and complaint, a hallmark and calling-card for van Hove, making him one of the most interesting and provocative theatre makers today.
For Diary of One Who Disappeared — part of Joe Melillo's last season before the programming torch is officially passed to new Artistic Director, David Binder — the combination of subtle yet powerful forces could not have been a better fit. This song cycle has the feel of a modern "living room opera", where the grand tragedies are rather commonplace and familiar,  and where the drama resides in the relatability of the characters, scenes and text. It portrays the content intimate reflections found in letters and private diaries, where one pours their thoughts uncensored, sometimes in a fever, sometimes carefully crafted but always laden with sincerity and in-the-moment emotion.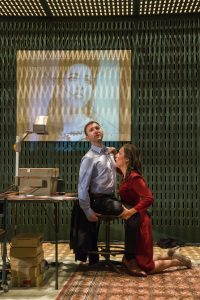 Janáček met Stösslová when she was merely 26 years old in 1917 and despite her ambivalence toward him — she only responded with 49 letters to his 700, and most were infrequent and elusive — the also married composer was so utterly and instantaneously smitten with her. She became not only a constant infatuation through his autumn years, but his muse for lead characters in three of his renowned operas and the inspiration for other musical works including his String Quartet No. 2 (also titled Intimate Letters), and the work which this richly revised interpretation is inspired by: Diary of One Who Disappeared — a 22-part song cycle about a village boy named Janíček who falls in love with Zefka, a Romany girl, evocative of Janáček's conflicted desires for a woman so different and unattainable but whom he nevertheless felt an unyielding affection for and devotion to.
In this Ivo van Hove directed version, the plot and piece is modernized and the woman's role and perspective is given more due, infusing the spirit of Zefka with five poems by Romani (gypsy) women from around the time of the work's composition, collected by dramaturg Krystian Lada and composer Annelies Van Parys, in order to give the muse and female character a more potent presence and equality in dominion over a love story that she is the star of. It also takes place in the present day with a successful photographer in his contemporary apartment and dark room, haunted by the phantom or in-the-flesh presence of the focus of his enthrallment and torment.
Actor Wim van der Grijn portrays the conflicted and consumed older man, while the stunning tenor vocals of Andrew Dickinson offset the enchanting, captivating voice of mezzo-soprano Marie Hamard who embodies the spirit of wild, sensuous Romani women and the young lady and muse — Kamila Stösslová — who continued to keep a thread of the composer's heartstrings connected to her throughout the years. Rounding out the intimate and subtle soundscapes are the choir trio (hidden from view): Raphaele Green, Annelies Van Gramberen and Naomi Beeldens.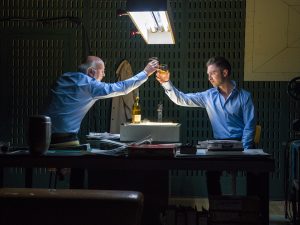 But the unsung (literally, as she does not sing or even speak) heroine of Diary of One Who Disappeared is the pianist Lada Valešová. Like a background character in a Woody Allen film, she was placed firmly at the piano in some grand Manhattan or European apartment, intended to be invisible but was not only the secret scene-stealer but the pulse of the whole production. She sat at the piano for the entirety of the performance, playing relentlessly but with subtlety and grace much like the persistence of memory; with a haunting quality of longing, infatuation and the spark of inspiration. Her soft pianissimo style carried the text, story and emotions through the black and white keys like dark ink on parchment paper from letters exchanged. Valešová's fluid, languid interpretation of Leoš Janáček and Annelies Van Parys' score drifted over the audience continuously like soothing warm waters alternating with crashing waves.
The other notable yet silent force is the set and lighting designer, Jan Versweyveld, who created a setting so personal it almost felt perverse and prying to gaze at — like glimpsing into a neighbors' window and witnessing someone's intimate interactions. The only sources of illumination were mirrored from real life — lamps, a projector, sunlight or moonlight and even the actual flames of a fire the scorned one uses to burn letters professing some of his deepest and most secret wishes about his forbidden beloved.
In the end, there is nothing shocking, unsettling or groundbreaking about this production of Diary of One Who Disappeared, but that is precisely why it is so brilliant — the potency of its familiarity lingers after the performance is over, much like the first chance encounter with a muse — it haunts the mind and spirit in a subtle yet persistent way.
For more information on Diary of One Who Disappeared and programming at Brooklyn Academy of Music (BAM), visit: www.bam.org