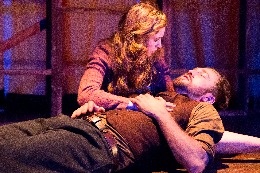 Jericho
The Wild Project
Snapshot Review: Sad, Beautiful Love Story
Patricia Contino, Reviewer
During his long lifetime, Ferenc Molnár saw his 1909 play "Liliom" become a classic 1934 Fritz Lang film (recently shown on TCM as part of their "Star of the Month" salute to Charles Boyer) and adapted in 1945 by Rodgers and Hammerstein for their second masterpiece, "Carousel". The musical, a school and community theatre favorite about to return to Broadway, is better known but shares its source's unhappy love story and unusual resolution. Michael Weller reimagines both in the touching and magical "Jericho" now being performed by The Attic Theater Company at The Wild Project.
Weller transfers the carousel to Depression-era Coney Island, fantastically recreated by director Laura Braza and set designer Julia Noulin-Mérat. Their detailing includes posters of Luna Park lining the multipurpose breakaway set walls along with continuous carnival organ-grinding and the aroma of popping popcorn from the lobby (and for sale).
"Jericho"' is also an evening-long magic act performed by Dr. Ruhl (Jerzy Gwiazdowski), who serves as host, narrator and participant. He opens the flimsy orange curtain on the boardwalk where the maid Julie (Hannah Sloat) becomes involved with carousel barker Jericho (Vasile Flutur). They are complete opposites – she soft-spoken and inexperienced, he loud and egotistical – but it's love at first site. Sloat and Fluter never overdo the characters' differences, making them believable.
Fate is both for and against them. Julie's unswerving devotion is not enough to keep Jericho employed or curtail his temper. Like Molnár, Weller never hides that he beats her. Even Jericho's attempt to change when Julie becomes pregnant is half-hearted because he makes it all about him, which is why it fails.
The first act of Weller's reinterpretation is compelling – until Jericho's tragic robbery attempt. He then rushes through what happens to Jericho after his death and return to earth to make amends with Julie and their now-teenaged daughter Lisa (Noelle Franco). Of course, this is the where "Carousel" begins; perhaps Weller wished to avoid the most obvious comparison. He could have continued the carnival theme with a House of Horrors and/or Mirrors Jericho might face in the afterlife, and then reason why he presents Lisa with a star would be clearer. The disappointment is in wanting to know more about when the couple of this sad, beautiful love story is apart.
Along with Sloat, Flutur and the charming Gwiazdowski are Ginna M. Doyle as Mary, Julie's best friend who outwardly "has it all" but not much else, Stephanie Pope's Mrs. Mosca, the jealous cougar carousel owner, and Erinn Holmes, Jamal James and Jack Sochet playing multiple characters who cannot change either Julie or Jericho. Not that they would have listened anyway.
Advisory: None
Running time: 2 hours with one 10-minute intermission
The Attic Theater Company's production of "Jericho" plays now through February 10, 2018 at The Wild Project (195 E 3rd St (between Avenue A and B, NYC). All tickets are $25 and available here. Additional information on The Attic Theater Company is located on its website.
© Copyright 2018 by Jeff Myhre, PhD, Editor. No part of this publication may be reproduced without written consent. Produced using Ubuntu Linux.