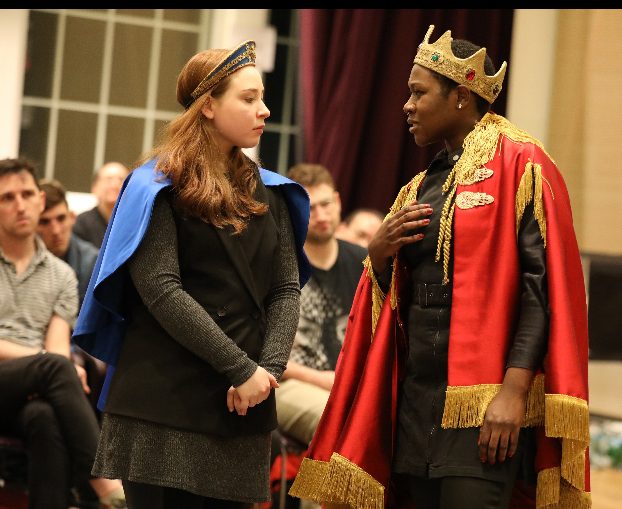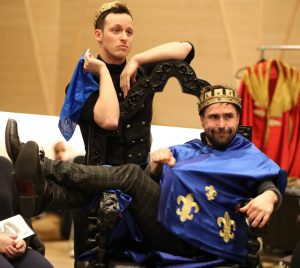 At any given moment in a theatrical season, it is likely there is a Shakespearean production being performed in both major and minor theatres and cities across the English-speaking world. The Bard's relentless staying power is undeniable.
But how do modern companies keep the work fresh and relevant, particularly the Histories, many of which are set in times, places and about people which seem to bear little significance on contemporary life in America?
One simple answer is that at the root of all of these stories lie rich, complex and utterly human characters whose grappling with their struggles and delights in their own triumphs resonate as deeply now as they did then. But, that said, many of even the most renowned productions can still feel a bit stuffy, archaic, or worst of all, inaccessible to those without the education or experience to understand and appreciate the performances, or even the means to see them.
But Shakespeare, himself, did not write only for the select elite — he was an entertainer for all, which speaks to his work's continued mass appeal. The compelling stories and engaging, meaningful experiences that live theatre provides are vital to a society's well-being and should be available to all.
This was the impetus behind Joseph Papp's vision for the Mobile Theater, which began in 1957 and remains at the heart of the Public Theater and Shakespeare in the Park. But, unlike that often star-studded summer event, in which getting tickets (free but first-come-first-served) can take several hours or be an all-night affair, Mobile Unit takes their production on a six-week tour of NYC, from the Bronx to Brownsville, delivering Shakespeare to the most underserved and needful communities in correctional facilities, shelters, LGBT and recreational centers, among others, ending in a three week run at the Public Theater's Lafayette Street home — all with nothing more than a few props, some simple costuming and mat to create a playing space.
It's guerrilla theatre at its finest and Mobile Unit's Henry V, directed with radical, resonant vision by Robert O'Hara and featuring an ensemble of some of the most dynamic, creative and remarkable actors in New York, is explosive in both intention and execution and breathes freshness and relatability into the timeless words.
As a playwright and director (who's also a black, gay man, adding that perspective to the mix), O'Hara constantly takes risks and makes exciting, bold choices. Though his choices aren't always flawless, it's clear he trusts his instincts and influences enough to shoot for the moon in hopes to at least land among the stars.
The value of such boldness is felt strongly in Henry V through color and gender-blind casting, modern gestures, outrageous posturing and parody stereotypes which vary from subtle to extreme.
Henry V deals a lot with the fragility of the male ego, beginning with the English King's infuriated response to the French Monarch's insulting gift (note to current world leaders: do NOT send tennis balls as a token!) which launched a wage of war to prove one's balls of another sort.
Such petulant reactions of "fire and fury" from man-childs less concerned with the welfare of their country and people than their bruised masculinity, could mirror the threats of arms' wars between Trump and Kim Jong-Un or a skirmish among rival gangs (the red scarves and accessories worn by the English and blue by the French could easily be a reference to the Bloods vs the Crips).
But perhaps the most daring and brilliant aspect of this particular version is that this representation of a white English King's complex male ego is portrayed by a black woman, Zenzi Williams. It would be hard to imagine a more noble head suited to wear such a crown. Her stately, regal demeanor is so captivating and commanding that it was no surprise to find the billion-dollar blockbuster, Black Panther, on her resume — for Williams delivers all of the majestic nobility and poised power of the royals of Wakanda to her Henry V.
All members of the ensemble unit are extraordinary and each one has performed so many varied Shakespeare productions, that a compiled list of their credits could read as several years worth of seasons or festivals' offerings. While this might explain their complete grasp of and mastery over the language, their creativity, playfulness and commitment bring new energy to the centuries-old text.
Each cast member plays multiple roles at some point to cover all of the characters between nine performers in a clean, tight production clocking in under two hours, but they also get their moments to shine, individually. All are incredible but the notable standouts are: Michael Bradley and Joe Tapper and the French Dauphin and King/Queen, respectively, whose outrageous, over-the-top interpretations were more from the school of Monty Python than that of the classically-trained; David Ryan Smith and Ariel Shaffer (last seen together in O'Hara's Mankind), who have a remarkable way of playing off of each other; Patrice Johnson's sensational Montjoy, the bearer of France's news and sports equipment; and relative newcomer Carolyn Kettig, who is uproariously hilarious in her representation of the snobbish and bratty French Princess, Katherine, trying to learn English through bodily anatomy.
One of the most well-acted and uncomfortable scenes is between Kettig and Williams when, after winning the war, Henry aims to win Katherine's hand. At first, the King appears bumbling and boyish, struggling over language barriers to woo her. But when met with the Princess' icy countenance and immovable pride, a sharp turn is taken and Henry grasps her neck, forcibly asserting dominance. This tense, dramatic moment is made even more unsettling in light of the #MeToo movement and feels especially sinister when enacted by two women. Their absolute commitment to the aggressive cruelty and palpable fear might stem from the fact that the majority of women have, at one time or another, experienced violence, objectification or assertion of power and dominance by men.
Though Shakespeare's works have been alive and well for hundreds of years and shall continue to be, this production of the Public Theater's Mobile Unit: Henry V takes the text and tale to new levels of engagement, relevance and relatability — for audiences as diverse as New York City itself!
Playing at The Public Theater, 425 Lafayette Street, through May 13th. Running time 1 hour, 45 minutes with no intermission. For more information: https://publictheater.org/Public-Theater-Season/Mobile-Unit-HENRY-V/