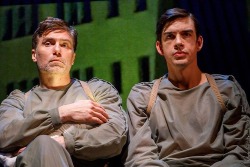 Mankind
Playwrights Horizons
Snapshot Review: Darkly Hysterical
Cindy Sibilsky, Reviewer
With Mankind, playwright Robert O'Hara has secured his place as one of the most irreverent, interesting and important new voices in theatre and a true jewel in Playwright's Horizon's crown.
His searing, darkly hysterical satire Mankind opens with a couple, post coitus, having "the Talk" about an unwanted pregnancy. Only they're two men, "dudes" to be exact, for as the tense conversation boils, every other word is "dude!" in mock of the limited vocabulary of the prevalent Bro culture, forced with a predicament my own sex is usually on the receiving end of. The women in the sold-out house were laughing the hardest.
Mankind debuts almost a year after both the shocking Trump/Pence inauguration and the contrasting and inspiring Women's March. It creates a glimpse into a dystopian world that seems almost too frighteningly possible (like an episode of Black Mirror) if the current administration were to have their way completely and irrevocably. Mankind takes place 100 years in the future and women are extinct. Why is not exactly defined but lack of basic rights and equality (particularly reproductive rights and healthcare) and bad air due to environmental abuse (to the ultimate woman – Mother Earth) are hinted at.
But without giving unfair spoilers (because the show is best seen without preconceptions to ruin the diabolically delightful surprises) it is sufficient to say that the show gets darker and deeper, casting a glaring spotlight on much more than misogyny, but on denial of basic rights, fascism, religion, extremism and the human condition itself in both the vilest aspects and the most tender.
Credit is due to O'Hara (both as writer and director) who also credits Doug Turner Ward's Day of Absence as his prime influence, but also to the incredible cast as an ensemble unit committed 1000% to this bizarre universe, which sells the satire and makes the ridiculous real. Bobby Moreno and Anson Mount comprise the "f***mates" Jason and Mark who are thrown into a situation which escalates to gargantuan proportions, alternate their emotional responses between callousness and sweet sincerity.
Seasoned Broadway veterans Andre de Shields and Stephen Schnetzer portray the accidental couple's respective fathers, and also shine in their other roles, proving de Shield's famous hands, lips and limbs are just as limber and expressive as in his heyday. But to me, most of the scenes were stolen by the multiple supporting characters played by David Ryan Smith (including the OBGYN of any woman's, or in this case, man's nightmares) and Ariel Shafir, most notably as Bob and Bob of The Bob and Bob Show, who'd put the media theatrics of Jerry Springer and Fox News combined to shame. Clint Ramos' imaginative, at times stark or appropriately grotesque, revolving set reveals the scenes and surprises with the skill of a master magician's sleight of hand.
Perhaps my favorite part of the experience was the audience and their reactions. I've never seen a more diverse group at the theatre in terms of age, race, sexuality, and backgrounds, so utterly captivated by this exaggerated, yet all too true mirror held to society's worse features, simply laughing about it all, together, united.
Running Time: 2 hours including a fifteen minute intermission.
Mankind runs through January 28, 2018, at Playwrights Horizons, 416 West 42nd Street, New York City. For more information and tickets, visit the theater's website.
© Copyright 2017 by Jeff Myhre, PhD, Editor. No part of this publication may be reproduced without written consent. Produced using Ubuntu Linux.