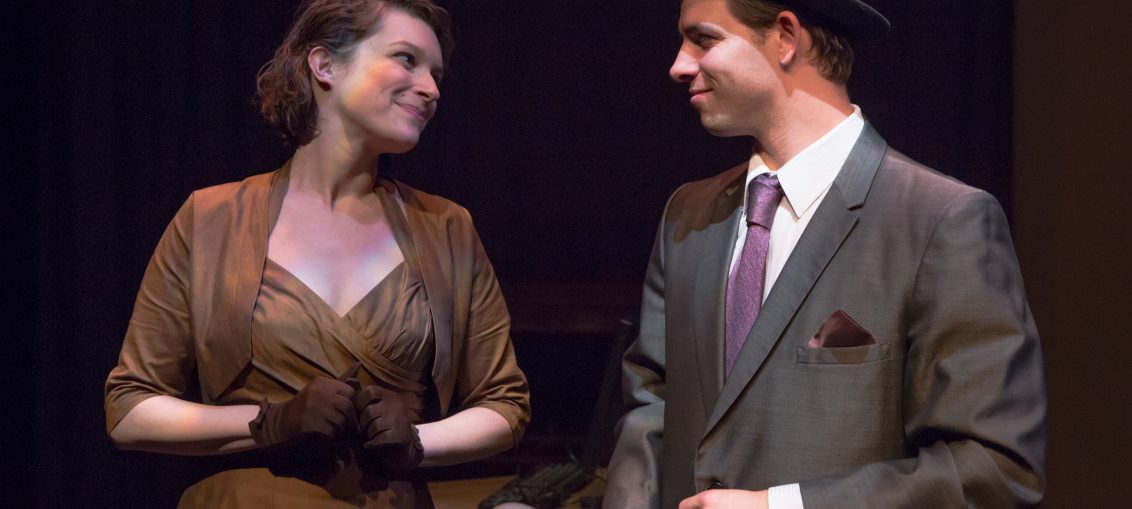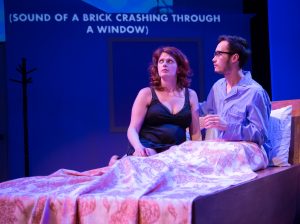 Given the chance would you go back to the "good old days" in the 1950's? Where women could vacuum their homes in their high heels and conical bras while their men mowed the lawn and their white children played happily with the family Labrador?  And racism and homophobia were at an all time high? "Maple & Vine" is Jordan Harrison's discourse on what constitutes authentic living and it is superbly brought to life by the New York Deaf Theatre at The Flea Theater. Strong performances meet visually arresting design to keep you glued to the action.
Katha and Ryu are burning out in 21st Century New York City. Technology addiction, high job stress, fast-paced living and a sense of growing disconnection keeps them feeling disengaged with their lives and each other. Enter Dean. He's peddling a 1950's housing development where inhabitants live in the past in order to keep themselves "present". He's selling a dream of "authentic" living in a time where things were simpler, slower and stress free. The mixed race couple decide to give it a six-month trial period and immerse themselves in getting into the new roles they are going to play. Deans wife, Ellen, assists with orientating them to their new lives and seems to come right out of a 50's catalogue replete with homemade clothes, subservience to her husband and a propensity to knock back the alcohol at dinner time.
But true to 1950's repression there is a closeted gay couple unable to be with one another as it's the time when heterosexual marriage was seen as the gold standard that could liberate Americans from sexual decadence and homophobia the order of the day. In this re-created society they are also well versed in re-enacting the "authentic" racism of the time. Isolated from the real world the "players" adopt their personas with gusto and become entrenched in the rigid "thinking" of the day. It's a riveting watch as you are constantly pulled between the past and the present while contemplating the future.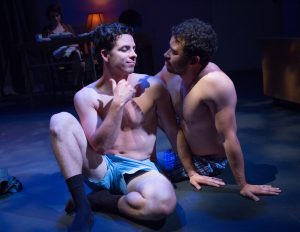 Christina Cogswell as Kathy/Katha is dynamite as the depressed urban dwelling mess who magnificently transforms into 50's good housekeeper extraordinaire. She is brilliant as the sluggish office worker and insomniac unable to catch up with her own thoughts who literally steps out of her modern self and ignites into a "happy" homemaker. It's perfectly terrifying. C.J. Malloy as Ryu gives us a heartbreaking performance as the sensitive doctor turned skilled box maker. His portrayal of a husband willing to do anything to make his wife happy again, including giving up his civil rights, was tragic and deeply moving.
Christopher Corrigan as Dean, the 1950's advocate and repressed homosexual was a mighty force on the stage. He commands the space with heaps of charisma and detailed physicality. He expertly plays the man at snapping point holding it all together, in his pinch front Fedora and Winkelpickers, with the perfect plastered on smile. His wife, Ellen, is exquisitely played by Liarra Michelle. She gives us the ideal "Stepford" wife, lobotomized by the moral high ground and energized by a drive towards impossible perfection. Michelle also played Jenna, a neurotic, millennial co-worker at Kathy's old job, with delightful self-absorption. Dickie Hearts as the lovelorn Roger, was like quicksilver moving from needy lover to self important factory manager. His emotions snapped effortlessly from violent lust to angry defiance. He also played the role of the ambitious Omar with a delicious mean streak.
Director Jules Dameron has excelled at creating an enticing emotional rollercoaster. She creates a fantastic environment for poignant performance moments, lush visuality and evocative design.
I particularly enjoyed Jennifer Varbalow's constantly transforming scenic design and Lisa Renee Jordan glorious costume design. Lighting designer, Annie Wiegand, had her work cut out for her with the many different environments depicted throughout the play, but creatively giving each one its own unique flavor and atmosphere. Gregory Casparian's projections added another potent dimension to the staging keeping us engaged throughout. Adam Salberg's provided effective sound design to compliment the strong visuals.
I think the production has been wonderfully crafted so it is accessible to Deaf and hearing audiences using combinations of American Sign Language (ASL), spoken English, projected subtitles, and nonverbal theatrical elements. However, I think that there are way too many blackouts and scene changes that make the running time a little long. I would like to see a tightening up of transitions – every scene change does not need a full set and lighting change. As this is the directors first foray into the theater realm I would urge a little more suspension of disbelief in moving between environments so we don't disengage from the plot with too many realistic set changes. The subtitle operator also needs to slow down in places. I lost many of the lines as they were fired too quickly after each other and I couldn't catch up. But it is a solid production with a captivating premise and engaging performances.
Running time: 3 hours with one 15-minute intermission.
The production will be presented in a combination of American Sign Language, Spoken English, and English captions, and is recommended for ages 16 and up
Maple & Vine runs May 11 – 27, at The Flea. For more information and tickets visit http://theflea.org/shows/nydt-maple-vine/