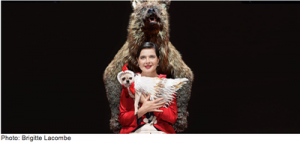 Fans of Isabella Rossellini's Green Porno will love Link Link Circus, her "from the waist up" follow-up at the Baryshnikov Arts Center.  So will animal lovers, TED Talk types and theatergoers with a sense of humor.
Surrounded by her collection of wooden and wind-up childhood toys, Rossellini is the ringleader/lecturer (is there really any difference?) sharing her love and knowledge of animals.  Unlike certain celebrity activists, she practices what she preaches with an Master's Degree in Animal Behavior – hence the Link Link  – from Hunter College.  Then along with her honorary PhD from the University of Quebec at Montreal, she is named after an insect native to Borneo. If these weren't enough credentials, she raises chickens on an organic farm and volunteers as a seeing eye dog trainer
For 70 minutes, the actress/educator illustrates a concise overview of animal and human coexistence with puppets, origami, home movies, videos, a cute silent short about the canine domestication and the findings of lots of famous scientists.  A step ladder transforms into the Great Chain of Being (scala naturae) with an assortment of living and inanimate props proving that science is fun.
Throughout Link Link Circus, Rossellini neither dismisses nor downgrades Darwin's theory of evolution.  .  "Creationism", which in many school districts is bewilderingly taught in tandem with evolution, never comes up.  The closest she comes to religion is mentioning a convent school incident when a nun told her that her dog lacked a soul.
That nun would take it back that if she met Pan (first name Peter), Rossellini's rescue dog and co-star.  Pan is a scene-stealing fur baby cutie who does tricks and plays many parts, including a rooster, dinosaur and bee.  When not cuddled by her adoring "mom", Pan is partnered with puppeteer/animal handler Schuyler Beeman.
Still, the center (and only!) ring belongs to Isabella Rossellini.  She's smart and engaging.  Going against expectation is a family tradition:  father Roberto Rossellini, best known for his Neo-Realist films, also directed documentaries, costume dramas and romances (Journey to Italy is an acquired taste but it's one of a kind).  Mother Ingrid Bergman was never the ingenue but convincingly played the ultimate ingenue role of Joan of Arc twice.  Their daughter makes science art.
Remaining performances of Link Link Circus take place in the Jerome Robbins Theater at the Baryshnikov Arts Center (450 West 37th Street, NYC) May 20 at 2pm and May 22 and 23 at 7:30pm in the Jerome Robbins Theater at Baryshnikov Arts Center (450 West 37th Street, Manhattan).  Ticket and additional information is on the BAC website.