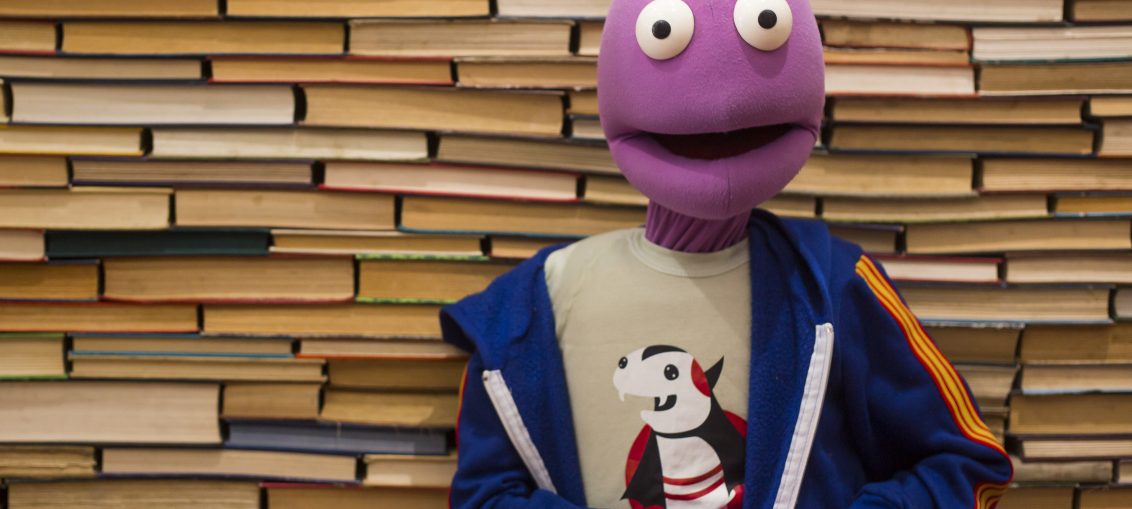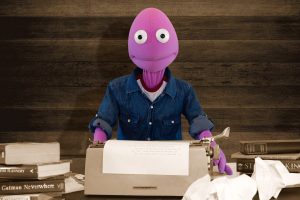 This is cheek sore, solar plexus spasm funny. This is laughter therapy that exfoliates grumpy out of your psychological wardrobe. Randy can turn a phrase like he's cornering a Lotus Elise SC. You're watching a truly hilarious stand-up comedian who is sitting down. He looks like the love child of Kermit the frog and Barney the dinosaur but has more facial expressions than Jim Carrey as Ace Ventura. You marvel at how "felt" and eyeballs can be more enlivened than the bulk of the humans you know. Randy may be energized by puppetry but he has almost as much soul as Sylvia's sassy wings and candied yams!
Randy is sitting at his desk, a completed first draft manuscript perches to his left ready to be ejected into the public domain. Randy has cold feet. He wants to share his novel with us but is plagued by terror. How will this draft be received? This "elephant" in the theatre is what he uses to ride around the jungle of his distracted mind throwing out narrative Persian carpets at the feet of his charging Loxodonta Africana. He wants to let his literary mammal loose in the world but fears the outcome. While he builds up the courage to read us the opening lines of his book, he diverts his own attention by sharing his thoughts on everything that pops into his mind. We suddenly find ourselves in the middle of a vegan/carnivore mouth off or in a Craig's list purchase that's devolved into the nine concentric circles of torment from Dante's inferno. He takes us to a lot of eccentric places.
Randy wraps us up in juicy discourse that gets us salivating for more of his South Sea cultured pearls. He manages to deliver remarkable insight disguised in clever one-liners and self deprecating musings. He deconstructs topics like the role of the artist, the yearning for leaving a legacy and mortality, like a sushi chef filleting a Saba for Sashimi –with expert dexterity and craftsmanship. Even though I bellowed like a foghorn and howled like a hyena throughout, these deeper philosophical contemplations stayed with me long after the aftershocks of shrieking had subsided.
He even includes a Hemingway party trick where he ricochets through the high points and low lights of this authors life in a few minutes. It's a raucous pole vaulting from one of Ernest's ludicrous micro-memoir moments to the next. Warning: it can induce the ugly laugh or unhinged snorting.
I loved every single second of it. This award-winning UK/Aussie cult sensation only has a limited run Off-Broadway and it's a show you want to show up to with the entire compliment of your closest friends. You'll be bonded forever in this particularly gratifying evening of hee-haw. To steal a phrase from South African visual artist, Mary Sibande – "The Purple Shall Govern!" May Randy stage a successful coup on 42nd street this season.
RANDY WRITES A NOVEL has been brought to NYC by the visionary foresight of Red Spear Productions, Emerging Artists Theatre and Laughing Stock Productions, and we are eternally grateful.
Running time: 75 minutes without intermission.
RANDY WRITES A NOVEL  runs April 18 – June 10, at  Theatre Row's Clurman Theatre (410 West 42nd Street, between 9th and 10th Avenues) For more information and tickets visit  www.telecharge.com