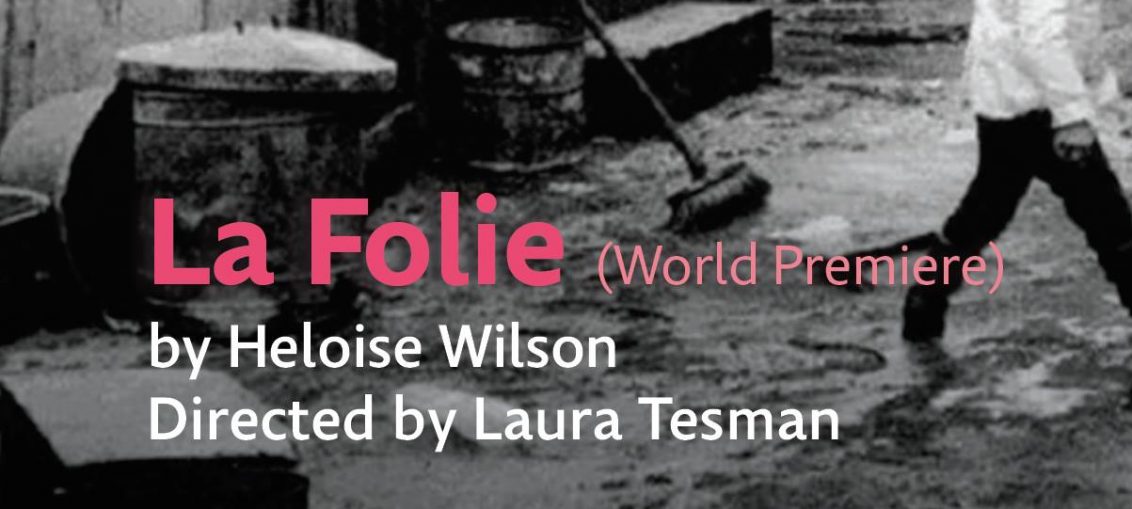 La Folie by Heloise Wilson is a deeply relevant revelation of a neglected slum that could be found not far out of Paris between 1950 and 1970. La folie translates into "insanity", an apt name for a muddy desolate place that was advertised to some as a paradise where they could find work in France and live like royalty. This was a real place that most French people have never heard about because it was almost completely un-documented and avoided by the government and press. Wilson and director Laura Tesman found an important balance between pain and hope and took us on a journey that opened our hearts to the plight of refugees.
We are in a complicated and devastating world-wide refugee crisis. It can be easy for some to assume "refugee" is just a title that is claimed when people feel like immigrating. In La Folie there is a simple line delivered by Karim (Jorge Sanchez-Diaz) that struck me: "I had become the foreigner". It is hard to remember that the refugees we see in the news, the "foreigners" whose language and culture we don't understand well, could easily flip and become us. All you have to do is go to a place where you don't speak the language or understand the culture and you become the foreigner. It's that simple, yet there is a negative connotation to the word. How strange it would be to suddenly be forced into leaving your home due to war, famine or persecution and become the unwilling foreigner. And yet so many people believe refugees choose to leave their homes. I adored the joy that Nabila (Kaila Saunders), Keira (Matty Sangare) and Samir (Johnathan Dougan) showed when they discovered that there is sand from their homeland left in Samir's shoes. They ritualistically and lovingly collect the sand to keep it somewhere safe so they always have a piece of their old life with them. It's a magical moment where we really feel the truth that no refugee wants to leave home. La Folie calls for empathy towards these people who have gone through so much.
When Karim goes to a government department with a letter saying he has been approved to be rehoused after years of living amongst mud and an environment rife with rats, no running water and no electricity, we see his hope that he might finally be able to call somewhere home again. He is understandably excited but finds himself going through a kind of maze as each person he speaks to (played by the same actor) tells him, mostly politely, that they can't quite help him. They repetitively send him to a different floor and a new door, until he finds himself having climbed up and down a building and getting nowhere; only to finish with an impossible situation where he is told that if he has children he has a higher chance of being rehoused, however he shouldn't tell them he has children because they might be taken away from him due to the conditions he lives in. The impossibility of the bureaucracy is excruciating and what so many people in need have to face. The painful scene comes to a peak when the officer says, "I'm sorry, you don't fit any box. You aren't paying rent. You don't exist." What a devastating sentence and an accurate reflection on how so many refugees feel. Sanchez-Diaz brought humor and pith to the stage as he revealed a refugee trying to make the most of his impossible situation and I truly enjoyed his work.
Laura Tesman's direction brings to life Wilson's words with nostalgia, humor and heart-wrenching tragedy. I particularly loved the use of physical theatre where the actors moved with stylized and repetitive grace and the use of live music throughout the show. It all supported the emotional journey and many transitions we went through as an audience. The set (Pei-Wen Huang-Shea) and costume design (Victoria Soechting) were symbolic and beautiful. My favorite part of the set design was a stark leafless tree with rugged roots which slowly rose and floated above the stage as the characters experienced a deeper sense of feeling uprooted. There was some weakness in the acting, some who were slow on cues, or not quite dropped into truth, and the pace of the show definitely needs to lift, however this is the first time this production and these actors have had an audience and I am sure many of these things will improve as the production continues. Some of the performers that stood out were Ahsan Ali who was excellent at discovering the comedy and drama in his scenes and Matty Sangare and Johnathan Dougan who's singing voices were just magical. Rae Mizrachi helped the show open on a strong note with her stoic, silent and emotionally filled performance. There is so much that I loved about this show. It had me laughing, crying and leaning into hope. Wilson is a phenomenal playwright, Tesman a fantastic director and this story an incredible testament to those displaced.
La Folie by Heloise Wilson
The Black Lady Theatre
April 27 – May 2, 2018
Review by Julia Ippstein