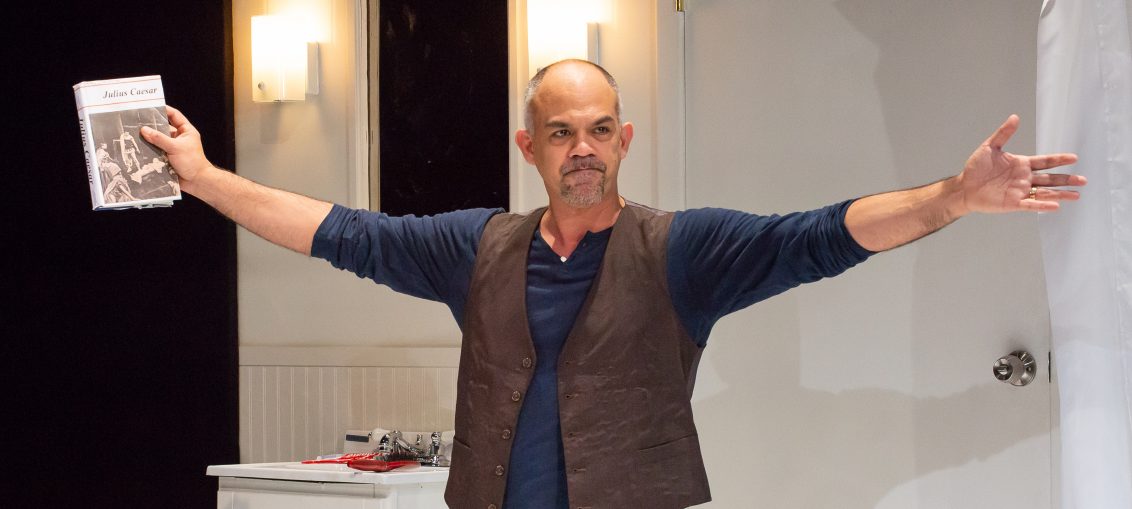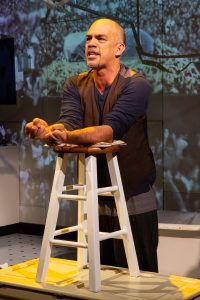 Sesar is the piece all solo shows want to be when they grow up. Although, Orlando Pabotoy plays so many characters if feels like there is a huge cast peopling the stage in this astounding production. It's an intelligent, vital discourse on the nature of birthing an artist. Sesar also tackles the use of language and how empty words can be when they are not colored in with truthful connection and understanding of context. It's a memoir, a memory fuelled expression of navigating a war torn world and finding courage in the well worn words of a master of his craft -Shakespeare. Pabotoy gifts us with a mature, original text brought to life by a consummate performer who conjures entire worlds with elements as simple as a shower curtain, umbrella or toilet plunger. He is a physical theater genius open to letting all the muses in to have their way with him and us. It's a thrilling cerebral and emotional workout that exfoliates cynicism and judgment right out of your daily armor. It's a magical, perfect night at the theater. You know those ones where you make sure you keep the playbill –you don't want to forget this particular defining moment in your theatrical growth. It's a production that shows you the potential of the one-person genre and how you can burst out of the "restrictions" of the form. Sesar is deeply satisfying for your inner cynic, your inner child, your eternal optimist, your hopeless romantic, your inner academic and fool. It opens gateways to let your imagination run wild and bloom where its planted. This is a great, inspirational work.
We meet Orlando Pabotoy in a bathroom in his new home in Fiji as he discovers the power of Shakespeare's Julius Caesar, while tropical storms and political wars threaten to rip the roof off his sense of safety. His father, once a respected mayor, has angered the powers that be in his home town and has fled the Philippines to ensure his family's safety on the insistence of their American, peace keeping mission mother. Children are kept indoors and out of harm's way. After seeing a monologue from Julius Caesar on television he is hooked. He gets his hands on a copy of the play and begins to experiment with the language. Into this new land he has fashioned in the family bathroom, his his father arrives to support his son's passion while learning about his own life journey in the process. The dissection of the relationship between father and son bonding over iambic pentameter is one of the most beautiful stories I have ever witnessed. We get positively re-parented in the moment, we get to witness the honoring of the emerging actor allowed to flourish and we see the majestic result as Pabotoy commands the stage today with such specificity of action, intent and honesty. He lets us peep into the sacred place where his artist took his first breath, his first step and then started to fly. Pabotoy's debut text is remarkable!
Richard Feldman has directed this work with exquisite attention to detail. You can see Pabotoy has been given a strong frame to work within and a compassionate, supportive anchor that allows him to soar. Feldman has crafted a sophisticated production drenched in complexity and flooded with oasis' to replenish empty spaces with gentle emotionality. It is clear the two have a solid working relationship allowing each of them to do their best work.
Pabotoy, as a performer, is sunshine after the rain. He ignites the stage –you can see this is his home and he radiates the inner glow of an artist born to tell stories that shake worlds and heal wounds and mend hearts. He is completely brilliant.
Junghyun Georgia Lee's Set and costume design is remarkable. The set creates a "blank" slate that represents, for me, the child's innocent state. Into this white, stark world the outside seeps in -projections start to paint the canvas of the impressionable young mans life and a garden of possibilities begin to grow. The use of the multi-media and the use of the "mirror" were used so cleverly and were really integrated into the narrative. Fabian Obispo's sound design and composition planted us slap bang in the heart of the other countries and also took us into inner landscapes on the chords of emotional musicality. The bold lighting design by Oliver Watson provided a tangible atmosphere of a small bud breaking ground – "out of the mud will come the aloe".
Ma-Yi Theater Company must be commended for supporting and presenting such innovative, life affirming and artistically brilliant work.
Running time: 1 hour with no intermission.
Sesar runs October 20 – November 1at Theatre Row (410 W 42nd St, New York, NY 10036). for more information and tickets: http://ma-yitheatre.org/onstage/sesar/