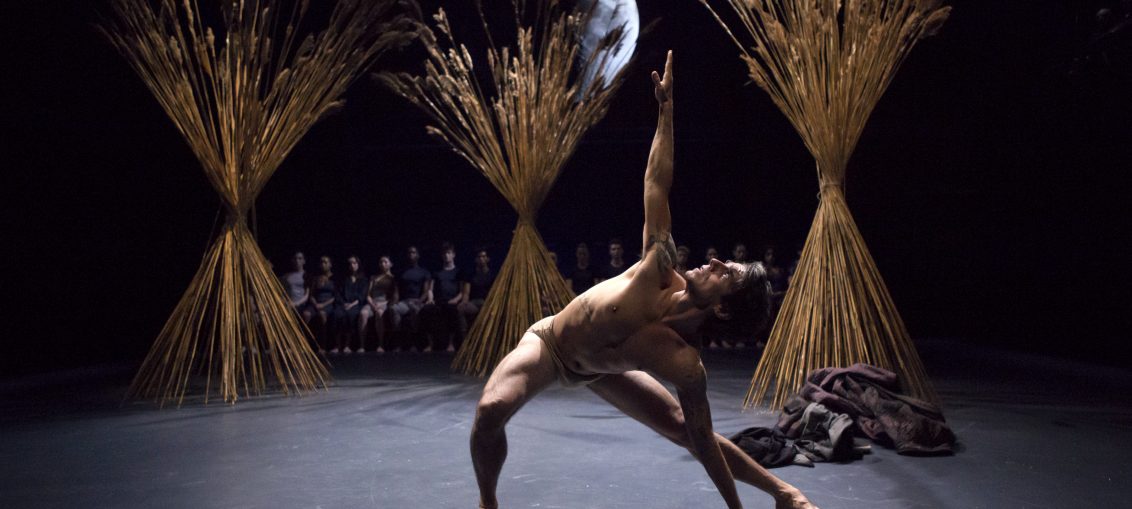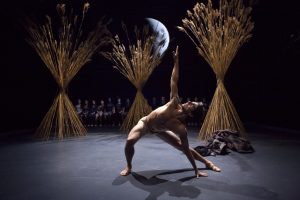 A man looks back on his life.  As ballet plots go, Watermill is fairly straightforward.  It's in the telling that makes it Jerome Robbins' most theatrical and intimate work.  Predating the first Next Wave Festival by 11 years, the seldom-seen 1972 dance appeared at this year's Festival as part of the Jerome Robbins Centennial Celebration with recent New York City Ballet retiree Joaquin De Luz and students from the Conservatory of Dance at Purchase College SUNY.
Robbins applied elements of his early modern dance training, work in Yiddish theatre, and Japanese Noh  to Watermill.  The choreographer said, "The ballet itself is influenced by the music and theater of the East; however, its world, people, and events are not construed as Oriental."  Director/choreographer Luca Veggetti didn't remove the original intent or re-stage the ballet.  He gave it breathing space in smaller venue.  There was no such thing as a bad seat.  NYCB's Koch Theater is cavernous in comparison – and that theatre was designed for dance.
Elemental shifting grounded the piece.  Phases of the moon marked the passage of time in both the Man's life and the 59-minute ballet.  Recordings of airplane engines roaring and dogs barking ominously broke silence.  Barriers between stage and audience removed.  The students sat on a bench along the back of the stage awaiting their cues.  The stage crew shook falling snow from buckets in the cat walk above the stage.
Watermill's lead role was created on Edward Villella, one of the greatest male dancers of all time.  The greater irony is that The Man doesn't execute big jumps, lots of turns, or partner, things Villella is still famous for.  Villella even came back to perform the role at NYCB's 1990 Jerome Robbins Festival – the first and only time I saw him dance.  Virtuosos  Bart Cook (an original cast member) and Nikolaj Hubbe followed in the company's two subsequent Watermill revivals, the last being in 2008.
Like his predecessors, Joaquin De Luz is also known for moving big and fast.  In Watermill, his only big steps are NYCB's signature wide fourth position (when the turned-out legs are apart and parallel).  It says a lot about a dancer who chose Balanchine's Concerto Barocco for his Farewell Performance because he never danced it before.  It says even more that two weeks later De Luz took on this role.  He measured the ritualized movement beautifully.  Counting is important in dancing, but timing is everything in this particular ballet.  De Luz listened and observed.
There is no watermill (though the idea was conceived when the choreographer visited Watermill, NY), only the rustic touch of three tied stacks of tall reeds dominating the set.  Japanese born-New York based composer Teiji Ito's (1935-1982) score prominently features the Shakuhachi, a bamboo flute played by Zen Buddhist priests.  Guest musicians at New York City Ballet performances were always onstage off to the side of the stage.  At BAM Fisher they were on the second level, among them the composer's daughter, Tavia.
Dancers come and go throughout the ballet.  They bear hanging lights glowing like fireflies, gather reeds, bully the Man in childhood and bring His nightmares to life.  When the moon is full, His Younger Self (Quaba V. Ernest) hooks up with a Woman (Aleksandra Gologorskya).  Their encounter is charged but brief.
Watermill was truly a once-in-a-lifetime opportunity to experience a Jerome Robbins up close.  His former company may not appreciate it, but 46 years later it still qualifies as New Wave.
Watermill was performed October 24-27 at BAM Fisher  (Fishman Space) 321 Ashland Place, Brooklyn).  Information on upcoming New Wave performances is posted on BAM's website