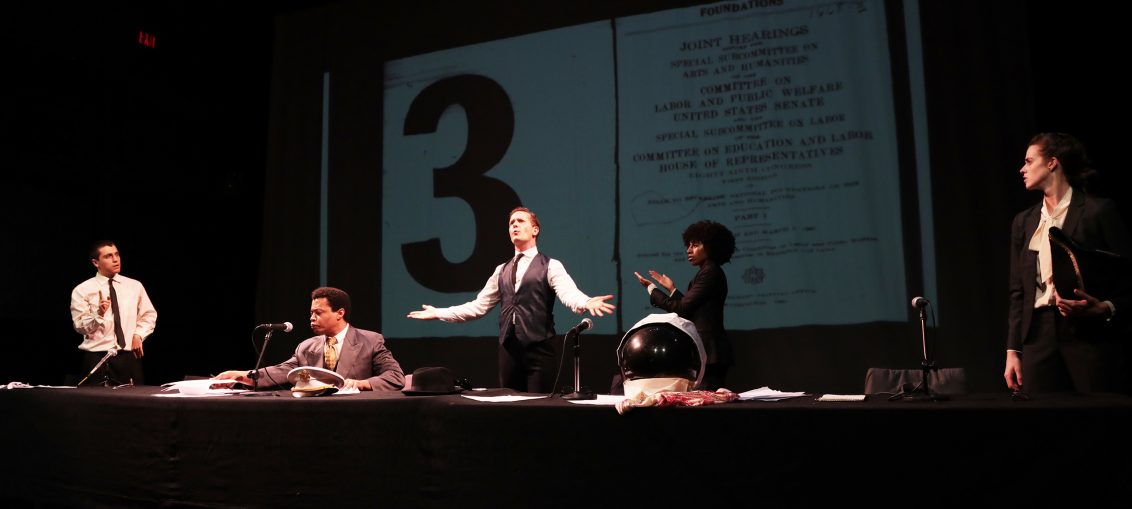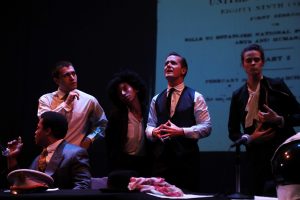 THE AЯTS makes you want to start a revolution. It's a powerful wake-up call to take action. The urgent litany at the end of the play – "It's time to save the NEA, we must save the NEA again," has become an urgent mantra on repeat in my head since watching this vital production. We're like frogs in a pot not realizing that the water is getting hotter. With so much political 'drama' coming out of Washington D.C., we mustn't lose sight of the fact that real artists are losing funding. The National Endowment of the Arts is under threat and Kevin Doyles brilliant new docu-drama is an explosive rallying cry to get us off our comfort couches and into the fray.
This production should be on a permanent national tour for the foreseeable future. It is drenched in detailed research and electrifying performances. It is based in part upon the hearings and debates in Congress from 1963 -65 during the creation of the NEA and later the arts battles of the 80's and 90's. It makes creative use of video footage of the time that lends the production historical context and satirical irreverence. But this is no boring history lesson. It's a sophisticated text that has elements of deconstruction, absurdism and a hint of the burlesque. At times the text creates a rabid cacophony of political jargon that can make you feel like your head will explode. It is quite extraordinary – you feel anxious, angry and disorientated. One can imagine how the merry-go-round of Congress "speak" can make you dizzy and fatigued. It perfectly captures the absurdity of the discourse about the arts debated by people who color firmly in the lines. Champions of the arts at the time like Jacqueline Kennedy Onassis and Claiborne Pell have you giddy with joy while arts-bashers like Senators Helms and D'Amato's comments can incite one to a fever pitch of incredulousness.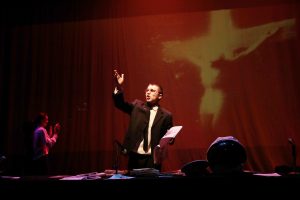 Kevin Doyle has not only conceived and written this magnificent piece of social commentary but is also it's director. He has imagined a dystopia of a senate hearing table smothered in paper and warped by the distortion of amplified sound and individual personality disorders. What starts as verbatim theatre quickly gives way to a kind of Jarry-like Ubu Roi absurdism where past and present seem to be running on the same timeline. Is it playing out in 1960's or yesterday? Reactionary arguments are exhumed to send a warning to those who might not recognize the threat of the complacent bourgeoisie in power who abuse the authority given to them. Doyle and co-director Mike Carlsen take us on an emotional journey that is both extremely educational and at the same time holds as an exceptional work of art – a rare feat.
The formidable cast play a multitude of characters. Dracyn Blount is the anchor of the company, rooting the group with his strong vocal and physical presence. Alexander Chilton is a wonderful chameleon slipping easily in and out of roles with the flexibility of a contortionist. I particularly enjoyed his cameo of Lillian Gish –the first lady of American theater. Shayna Conde is pure fire on stage with a remarkable, penetrating stare that makes you want to sign petitions and protest. Nick Daly seems to have walked right off the silver screen of the late 50's with his charming, fedora wielding, dapper elegance. He was boisterous and suave at the same time and a total pleasure to watch. Georgia Lee King has a ramrod straight spine and an ability to make your epiglottis freeze with her penetrating hard-edged characterizations. She is a striking performer that manages to get perfectly under your skin. All five are a tight ensemble and it feels like you are watching hundreds of people on stage – their combined energy is phenomenal.
This work, sponsored By Nobody, comes at exactly the right time. It pokes us into unease. That slightly unsafe space where you are forced to question, debate, research further and rail against your own inactivity.
I like Kevin Doyle's words on the play, "This work is about the regular citizens and elected officials who argued and fought for arts funding, and created the core language that informs the oft-forgotten arts funding laws.  One of the great discoveries we've made in this creative process is to uncover that we are not living within the arts funding system that was originally intended.  The original bold terrain has become so eroded that we have become used to living with less, and no one stops to question how we got here."
Running time: 85 minutes with no intermission.
THE AЯTS  runs 13 – 30 September, at The Ellen Stewart Theatre, La MaMa (66 E 4th Street) For more information and tickets, visit: lamama.org, or call OvationTix at 212.352.3101