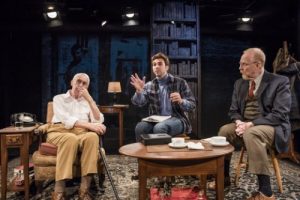 So what's a Pendarvis, and what sort of pattern does it contain? Behind Dean Gray's somewhat cryptic title is a sweet, sincere, but very small exploration of Midwestern mid-20th century life, and how varying small-town factions got along together, or didn't. Its source material, Will Fellows' 2004 book A Passion to Preserve: Gay Men as Keepers of Culture, probably tells us more. What's onstage at HERE, a production of the New Dog Theatre Company, amounts to a snapshot—an intriguing snapshot, but one with a frustratingly blurry focus.
Dean Gray's three-character drama of gay life in homophobic 20th century Wisconsin is sweet and sincere, but lacking in detail.
Pendarvis, is turns out, is a historic site in Mineral Point, Wisconsin, where the real-life Edgar Hellum (Lawrence Merritt) and his partner Bob Neal ran a successful Cornish restaurant and became unsung heroes of historic preservation, restoring the 19th century cottages around them and receiving minimal acknowledgment or support for their efforts. We're in Edgar's living room, in 1997; Daniel Ettinger's set design quite successfully combines the representational and the impressionistic, the latter represented by black bookshelves and books, presumably denoting the hidden, murky past. Rich Farnsworth (Gregory Jensen), a stand-in for Fellows, has arrived to interview the nonagenarian Edgar for his book, but is met by Norm Hansen (David Murray Jaffe), president of the local historical society, who explains that Edgar was taken to the ER that morning, but he's fine and should be back momentarily. Which he is—stooped, squinting, with a cane, but sharp as a swordpoint mentally, and more than willing to tell his story. Norm's initial solicitousness to Rich carries a guardedness, a veiled reluctance, the source of which we'll shortly discover.
So we're essentially watching a Q&A—three guys sitting in chairs talking, and Rich fumbling with his bulky cassette recorder. That doesn't give director Joseph Megel much to stage, and with so little to look at, the talk had better be compelling. Norm, under the impression Rich is there to interview Edgar about architecture, is dismayed to see the conversation drifting toward Edgar and his late partner and what being a male couple was like in less enlightened times—the "pattern" of living. Was it difficult? "It had its moments," Edgar answers, but townspeople seem to have tolerated the two, as long as they didn't thrust their lifestyle in their bigoted faces. This is interesting stuff—there's really not a lot of recorded history on how these gifted, marginalized men endured, and Gray serves up some fascinating details. Well-meaning locals tried to get Bob and Edgar married, and encouraged them to correspond with a pair of bachelor gals a couple of states away. The two hired a like-minded young man to work for them; that didn't last long, with overprotective parents around.
I don't know how old Lawrence Merritt is, but he's up there, his career stretching back to the original Broadway runs of No Strings and Nowhere to Go But Up, and to watch him navigate Edgar's rather complicated, detailed monologues is impressive and even inspiring. Whether his "uh"s are the character or the actor, it's a touching, fully felt performance. The other two haven't as much to play; Jensen conveys Rich's earnestness and little else, and Jaffe isn't given much to do but bluster and fidget. One nice directorial touch: the lack of touching. Megel has the three remain at a collective physical remove, so that when Rich and Edgar finally share a protracted hand clasp, it means a lot.
The Pattern at Pendarvis lasts a little over an hour, and it leaves you a little hungry. Despite Rich and Edgar finally being unencumbered by Norm (Edgar has wisely told him to get lost), there's a lot we're left not knowing. Gray might have written a flashback or two, or gotten Edgar to elaborate more on what his daily existence was like in such homophobic surroundings. Hellum's obituary, helpfully included in a projection at the end, notes that Edgar died in 2000, at 94, "surrounded by family and friends." What family, and who were his friends? I want to know more.
Running time 65 minutes, with no intermission.
The Pattern at Pendarvis runs through August 5 at HERE Arts Center, 145 6th Avenue. For more information and tickets, visit HERE.