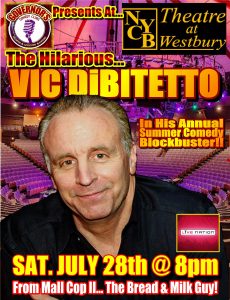 Anyone who knows anything about comedy could never deny the influence Long Island has had on the stand up comedy scene since it's inception. The endless list of greats that call Long Island their home and cut their teeth doing comedy here is well known in the annals of comedy history. That rich history continues with the great talent that Governors Comedy produces on a daily basis on Long Island.
In the mid 1990's I had the opportunity to work as and usher and backstage at what was then The Westbury Music Fair, which has a history of it's own that goes as far back as the late 1960's when Jimi Hendrix played in what was then a tent. I had the opportunity to meet so many greats while working there, a true gift. From Jimmy Roselli to George Carlin to Kenny Rodgers and Steven Wright to Henny Youngman and Milton Bearle even Frank Sinatra. I was lucky to got to meet so many of the greats at a very young age. The comedy that comes out of that building  holds a very special place in my heart and continues to as The NYCB Theater At Westbury. This Saturday Governors Comedy continues in that rich tradition with one of its many sons and Long Island great, Vic DiBitetto. Vic is one of America's best stand up comedians and currently at the top of his game. In addition to stand up comedy Vic is an internet personality and actor. He often refers to himself as "The Donkey of Comedy," or "The Working Class Zero." In 1991, Dibitetto made his first television appearance on America's Funniest People with his son, Michael, and was the $10,000 Grand Prize Winner for their home video of a mock ventriloquist act. Vic is most well known for his 2013 Bread and MIlk video on Youtube, check it out here,  https://www.youtube.com/watch?v=i6zaVYWLTkU and also in "Mall Blart: Mall Cop II", which you can check out here,  https://www.youtube.com/watch?v=2Fum5ZrxgL8.
If you've ever had the opportunity to see Vic in the past you know how funny he is while at the same time being very down to earth and approachable. If you haven't seen Vic DiBitetto here is your chance at one of Long Islands best venues. This Saturday July 28th at 8pm you can see him at The NYCB Theatre at Westbury on Broadhallow Road in Westbury. Vic has truly lived up to his win being one of America's Funniest people. If you do anything this weekend, go see Vic and say "Hi", you won't regret it.