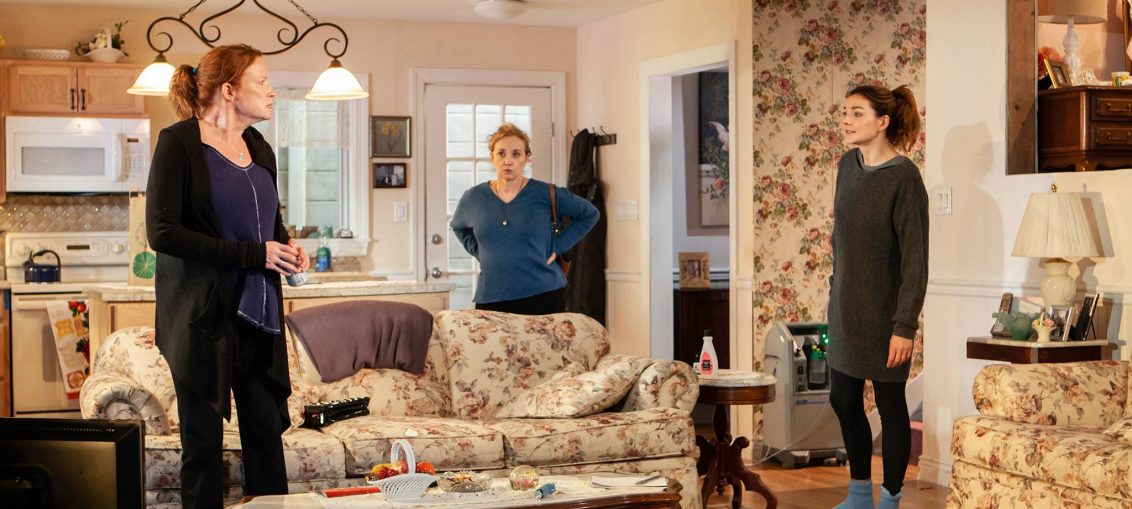 Family gatherings are rarely peaceful, especially when a family is gathering to say goodbye to a dying parent. In Peace for Mary Frances, a new play by new playwright Lily Thorne, the tumult begins as 90-year-old Mary Frances announces that she is ready to die and will no longer take any measures to extend her life. As the family gathers to say goodbye to the matriarch, old rivalries flare up and arguments ensue—and everyone seems to have an agenda behind his or her words and deeds.
Lily Thorne's ambitious script is very detailed in its depiction of hospice care—almost a documentary about how the American healthcare system handles death. But when the focus shifts to the relationships among the different family members, the play seems to come to life. After all, it wouldn't be much of a drama if there weren't any secrets or lies to reveal—but Lily Thorne, in her professional playwriting debut, keeps the family conflicts grounded in recognizable reality. Each one of Mary Frances' three children feel that he or she is doing the most for the matriarch, and resents the other two for their perceived lack of care. Their resentments have built up over decades, and watching the emotions boil over feels painfully true to both life and death.
Perhaps somewhat surprisingly, Thorne manages to find a surprising amount of laughs in the midst of the morbidity, and director Lila Neugebauer keeps the pace from flagging too much. For a play about a woman waiting to die, Peace for Mary Frances is surprisingly funny, balancing the grief with generous amounts of humor. This fictional family is, ultimately, just like every other real family—selfish and loving, clueless and thoughtful, greedy and generous. Thorne holds up a mirror to the audience, and doesn't ask us to like what we see.
The indomitable Lois Smith reigns over the stage as the dying woman, and her scenes are a highlight of the play. The eye of the constant hurricane around her, Smith radiates equal parts frustration and serenity, ready to go but not ready to leave things unfinished. Even as her life nears its end, Mary Frances' strength is never buried too deep within her, and in Smith's hands, we can see how the character has survived for so long, and through so much pain.
As Alice, the nominally "good" daughter, J. Smith-Cameron has the practiced niceness of a candy striper, and watching the layers of her character reveal themselves is a high point of the play. Johanna Day, fresh off a Tony nomination for playing a troubled blue-collar factory worker in last season's Sweat, finds a similar rough-hewn poignancy in Fanny, the drug-addicted "bad" daughter who has never quite been able to leave the nest. In the less showy role, Paul Lazar is appropriately bland as Eddie, the lawyer son whose efforts to avoid the family drama never quite seem to work out the way he wants. None of the three siblings is particularly "likeable," but with these performers, this director and this script, they always manage to be at least a little bit sympathetic. They have all faced their challenges, and some have emerged stronger for their struggles than others. 
Dane Laffrey's set expertly recreates a middle-class split-level home, complete with kitchen, living room and upstairs bedroom. Combined with Neugebauer's staging, the set means that the characters are (quite literally) rarely on the same level, and we can see the power dynamics play out by who is upstairs and who is downstairs.
Tyler Micoleau's lighting effectively conveys the passage of time, and the flickering glow emanating from the ever-present television sets nicely reflects the uncertainties around family conflicts. Similarly, Daniel Kluger's sound design includes ambient noise—sometimes voices, sometimes music—from the TVs that always underscore the emotion of a scene. It's a small touch, but it adds a lot to the story.
Peace for Mary Frances is certainly an admirable playwriting debut for Thorne, and it conveys what she is capable of as a playwright: compassion, humor, intelligence and uncomfortable reality.  
Running time: 2:35
Peace for Mary Frances runs through June 17 at The New Group at at the Pershing Square Signature Center, 480 West 42nd Street. Visit www.thenewgroup.org for tickets.