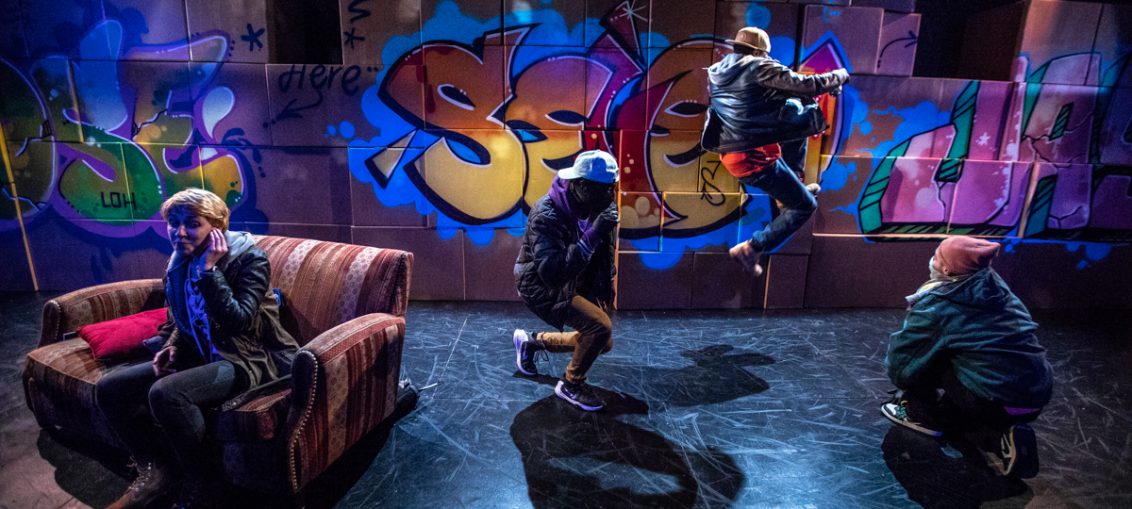 In this high stakes, adrenaline fueled "piece", graffiti culture sneaks indoors to leave it's tag on the blank canvas of the Fourth Street Theatre walls. You feel like you have illegally entered the secretive world of street artists and are peeping through a "window" to catch a glimpse of what muses motivate them. Popular media has up permanently rooting for the "underdog" and so we are well trained to cheer from the sidelines right from the start. Graffiti might be illegal but in the world of this play it somehow feels like a crime of passion, a revolutionary act, a middle finger to institutions peddling exclusion and privilege.
'This is Modern Art', commissioned by Chicago's Steppenwolf Theater, was written by hip-hop artist and playwright Idris Goodwin and writer/artist, Kevin Coval (founder of 'Louder Than A Bomb' youth poetry slam). It's based on the real life "bombing" event of the Art Institute of Chicago in 2010 where a graffiti crew painted a fifty-foot mural on the outer wall during a snowstorm. With words like "battle", "bomb", "kills", "hit", "throw up" and "kings" you might think you are going to be seeing a show about a war, a terrorist act, a violent clash but these are words from the graffiti lexicon having their origin in hip-hop culture going back to the 70's and speaks to an urgency, a massive impact and a desire to wrestle with society's passivity. It is a visual language, an urban dictionary of wall writers penning/spraying messages to activate social change. (To "bomb" a building means to create a prolific painting on a prominent outdoor space.)
One of the layers of this cleverly constructed text is an "edu-tainment" aspect where we are "taught" the essential elements of graffiti so that we can fully receive the message without feeling alienated by a foreign lingo.
It's a combination of actual events and fictionalized characters. (To date the 'Made U Look' (MUL) crew, responsible for the "bombing", have never been apprehended). In this play we meet the LOH crew (Look over Here) comprised of Seven, Dose, J.C and Selena (the lookout) – a group of mixed-race youth. We follow their lives, loves, artistry and social commentary. They are the vehicle through which themes like race, agency, privilege, exclusion, representation and "art" are debated. The marginalized youth are given a voice to confront the status quo and make their case for what constitutes "modern art."
Director Jessica Burr has created an action-packed, attention grabbing, chase of a play where we feel like we are in an ongoing, POV (point of view) shot. It is like we are personally experiencing the different character's increased heart rate propelling them from one dangerous moment to the next. It has toned muscularity to it as the performers are forced to keep up with the physical demands of the play.
The six-hander cast expertly create the different worlds  with detailed physical theater techniques and the assistance of some innovative scenic design elements. Shakur Tolliver as Seven is a sensational performer who is making his NYC debut. I am sure we will be seeing a lot of him in the city as he is phenomenally talented. He commanded the stage with a strong yet sensitive presence and was able to completely inhabit the complexities of the high and lows of "Sevens" choices.  Landon G. Woodson as Dose is the anchor of the entire performance. His exceptional craft is evident in every moment as his powerful vocal and physical energy ignites the space. Woodson also has great comic timing.
Andrew Gonzalez portrays the intelligent, introspective J.C. with a quiet strength and laser sharp focus. Gonzalez gives us a mysterious man full of stormy waters under a placid exterior. He is utterly captivating. Nancy McArthur as Selena is the wily fox, the wise feminine sentinel, always on the lookout for danger but unable to see it in her personal relationship. McArthur gave Selena a languid sensuality and a feisty front when confronting threats.
J. Stephen Brantley and Ashley N. Hildreth are the resident chameleons transforming into a wild array of humorous characters and providing solid support for the leads.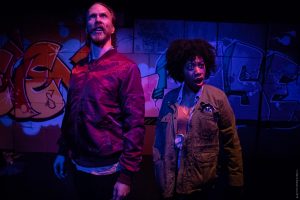 There is also a truly gorgeous masterpiece ("piece") created specifically for this production by legendary NYC street artist KEO XMEN. The reveal of his work is so cleverly executed, thanks to the talents of scenic designer Matt Opatrny, that you want to cheer out loud. It gives the whole play authenticity and 'All City' high status.
Haydee Zelideth's costumes are layered, lush and lovely. Lighting designer Miriam Nilofa Crowe paints the right atmospheric lighting "pieces" to keep the crew perfectly in the shadows or brightly wearing their hearts on their sleeves. Adrian Bridges innervating sound design provides the insistent, vital soundtrack for the unstoppable youth.
Blessed Unrest is the company responsible for bringing 'This is Modern Art' to NYC and they have chosen a work that poses interesting questions that will stimulate lively and contentious debate. It's a necessary production that invites the revolutionary indoors to redecorate our sanitized viewpoints. Warning: it does make you want to reach for a can of spray paint and seek out a little bit of exposed white wall.
Running time: 80 minutes with no intermission.
This is Modern Art runs June 2- 23, at The Fourth Street Theatre, 83 East 4th Street between Bowery & 2nd Ave., New York, NY 10003. For more information and tickets visit https://www.nytw.org/show/this-is-modern-art/