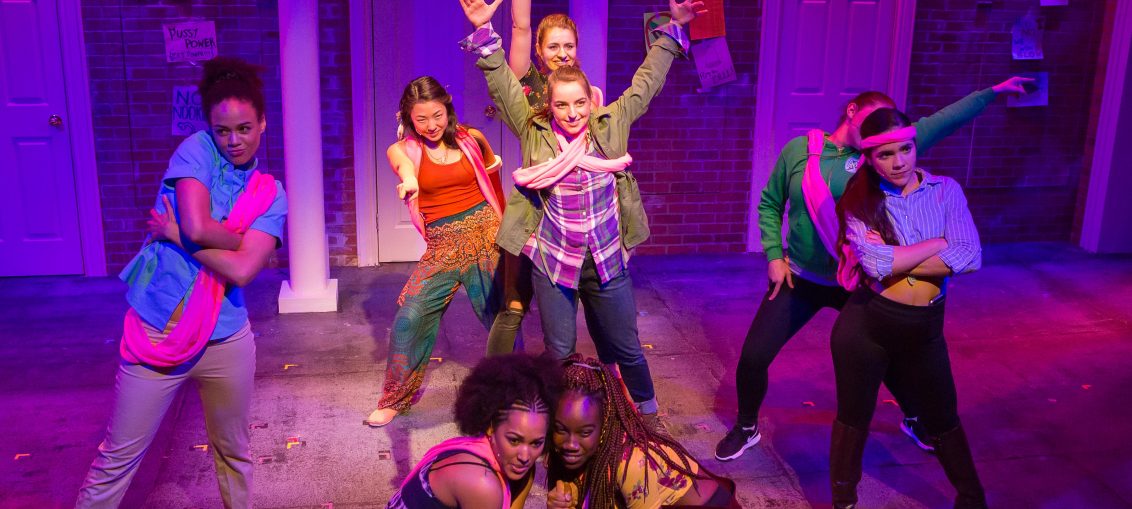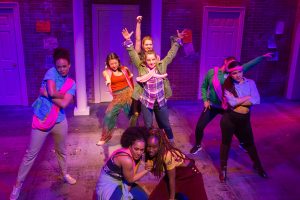 This season female empowerment dominates two big Broadway musicals.  Sure, both "Frozen" and "Mean Girls" have female leads but those #MeToo connections are slightly perfunctory: the only change Disney princesses and a SNL alum bring to commercial theatre are record ticket sales + pricing along with celebrity audience sightings on Instagram.  For those in search of a night out with their tweens or long for an original musical with a positive message delivered by "woke" females there is "Ms. Estrada" – the Q Brothers Collective shrewd Hip-Hop adaptation of Aristophanes' ancient sex farce in its world premiere at The Flea.  If a cheerful new musical isn't enough of a reason to go, "Ms. Estrada" provides a chance to see The Flea and their resident acting company The Bats their beautiful new home on Thomas Street where buying tickets doesn't require taking out a second mortgage.
There is nothing perfunctory about the Q Brothers Collective's approach to "Lysistrata"; previous Hip-Hop re-imaginings include Shakespeare.  In the Prologue spun by DJ Marguerite Frarey, GQ, JQ, Jax & Pos apologize for being male but also ask those present to "open yourself up to the wonderful world of ass play."  Their battlefield is now the modern-day American campus Acropolis U where the primary focus isn't academics or campus safety but the annual Greek Games.  Director Michelle Tattenbaum and choreographer Ana "Rokafella" Garcia keep the beer-pong "athletes" herded – think Rob Gronkowski times five rapping in one loud voice.  (Since the Patriots ageless frat boy is taking acting gigs, perhaps one day Gronk will do  "Ms Estrada" in Berkshires summer theatre).  The fifth member is their founder, corporate billionaire Harry Stefani (Michael Ortiz), who inexplicably graduated.
As the games near, Liz Estrada (Malena Pennycook), the best student Ms.Spencer's (Jenna Krasowski) Women's Studies class, devises a plan to end them by convincing her girlfriends not to have sex with their boyfriends.  The plan goes viral with #RingDingDong!  as their catch phrase, creating more confusion for clueless Dean Jaffe (Ben Schrager).
Instead of showing the video to the audience, they get to see how its creation in a joyous dorm room number and how it works when the girls tease and torment the guys.  Personal humiliations are temporarily eased in yoga class with an understanding instructor (Monique St. Cyr), which not only yogi and Pilates practitioners will find ironic.  Those in academia will find administrative avoidance techniques unfortunately familiar.
Liz wishes to succeed not only for the greater good, but for Ms. Spencer's reward of her autographed copy of Katherine Hepburn's "Me: Stories of My Life".  Here, the Q Brothers Collective play up ridiculously unfortunate pop culture confusion with all students mixing up four-time Oscar winner Katherine with unrelated, one-time winner Audrey.  They never bother listening when Ms. Spencer and Liz corrects them, prompting the boys' referencing "Breakfast at Tiffany's" for the show's best line.
The Bats energetically embrace "Ms. Estrada" and its gender politics – politically correct or otherwise.  They and the show are ensemble-based, but Malena Pennycook s Liz is a strong presence with an equally strong singing voice.  Jenna Krasowski  and Ben Schrager also stand out as the adults who don't have all the answers.  Then there is Madeline Mahoney's Cali, the reluctant activist who discovers "Me, too" means her as well.
With "Ms. Estrada", Flea's Season of the Womyn is off to a great start.
Running time: 90 minutes without intermission
Ms. Estrada runs through April 22, 2018 at the The Flea Theater (20 Thomas Street between Church and Broadway, NYC).  Tickets can be purchased through their website.