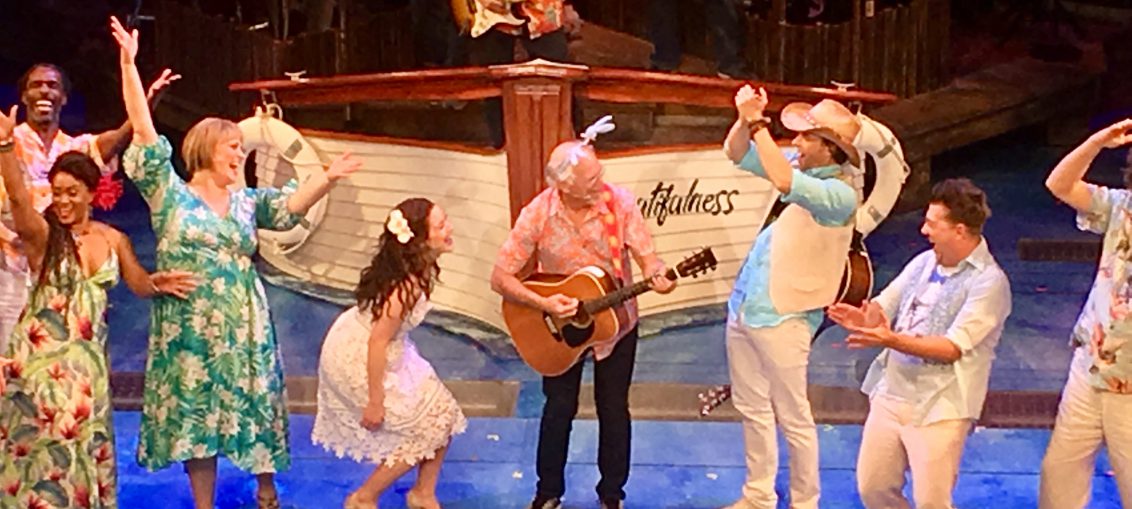 Paul Alexander Nolan, Alison Luff and the cast of Escape to Margaritaville. Photo by Matthew Murphy. Photo above: Jimmy Buffett and cast.
When April in New York City is ushered in by a blanket of snow, everyone could use a little getaway to somewhere warm, wonderful and inviting, far away from the hustle and bustle of city life, where one could entertain the unthinkable – to relax. For East Coast snowbirds who didn't get the chance to fly south to Florida, or the Midwestern family of four who opted for The Big Apple instead of the Caribbean cruise, Escape From Margaritaville, now playing on Broadway, offers the invitation for eschewal of all responsibility and permission to enter a paradise of perpetual Spring Break – if only for a couple of hours.
The musical is based on the songs and "state of being" of Jimmy Buffett, who built his billion dollar empire (which encompasses everything from real estate, resorts, record labels, restaurants, sports, food, drinks and more) out of being the quintessential beach bum. Clearly it's been working, and Buffett has brought together the essential ingredients for the smoothest cocktail of absolute escapism! Reportedly, they ran out of margaritas on opening night and boast the most booze sold on Broadway. The show itself is a lot like the namesake drink – it may be empty calories but it's a tasty treat that leaves you with a nice buzz! And unlike the descriptions in Buffett's "My Head Hurts, My Feet Stink and I Don't Love Jesus," this delightful concoction won't give you hangover, but it might just leave you with a big grin on your face.
The rom-com story pits a daydreaming drifter musician, content with one-week stands and a life of leisure, Tully (played by Paul Alexander Nolan, who shines in "Son of a Son of a Sailor"), against an ambitious environmental scientist career woman, Rachel (played by Alison Luff). The conflict is light, reunions strong, and (no spoiler here!) it ends happily. But as with most rom-coms and sitcoms, it's the foil characters who are much more interesting.
There are the forbidden smitten: Tammy, a Cincinnati woman with a fiancé who doesn't appreciate her (played adorably by Lisa Howard in a role that suits her well), who falls for Brick (a lovable oaf played to perfection by Eric Peterson), a man with appetites to match her own. Andre Ward takes turns as the carefree Caribbean, Jamal (who gets his magic moment amongst the essential island sounds of steel drums in "Volcano"), and the slick music agent, Ted. Rema Webb is the sassy Jamaican hotel proprietress, Marley (no doubt a nod to Bob), who is pursued by the wily old barfly, J.D. (performed with alternating sincerity and hilarity by Don Sparks, a steel guitar player in his other life). Sparks' J.D. is the most charming of all, for although he appears to be no more than a drunken old skirt chaser, at heart he is more of a Florida Keys-era Hemingway type, who just washed up on this particular shore to live out his autumn years.
One of Escape From Margaritaville's strongest assets for a jukebox musical, besides Buffett's multi-platinum memorable tunes, is that it knows just what it is and doesn't take itself too seriously. This is largely thanks to the book writers, Greg Garcia and Mike O'Malley, whose extensive work in playful sitcoms has prepared them to pen a book that feels more like a late night drunken stream-of-consciousness rambling, but knows when to get out of its own way to let the real stars, the iconic songs, take center stage. Another unexpected gem is how humorous the deadpan, literal enactments of the lyrics are and how they are used to propel the plot. With such irreverent lines as: "searching for my lost shaker of salt," and "grapefruit, bathin' suits, chew a little juicy fruit," how does one turn these phrases into a sensible plot? You can't, and you don't! So instead of philosophizing or trying to find deeper meaning or metaphor, the authors took Buffett's own sage wisdom to get their "License to Chill," and just go with the flow, wacky as it might be.
The flow is guided by director Christopher Ashley, known for his movement-heavy focus in musicals such as Memphis, Xanadu and Rocky Horror Picture Show, and his ability to bring sincerity to larger-than-life situations, beautifully demonstrated in his Tony Award-winning Come From Away, with his Margaritaville collaborator, choreographer Kelly Devine. Ashley and Devine bring eternal Spring Break to the stage with boogieing revelers of all shapes and sizes, accurately reflecting the spectrum of vacationers' body types, and utilize invisible wires to create an underwater scuba dive and an ascension to heaven for love at first bite in "Cheeseburger in Paradise." There's even a show-stopping, tap dancing insurance salesforce in an acid flashback!
The creativity and inventiveness is visually enhanced by the brilliant scenic designs from Walt Spangler who transports the viewers from a tropical resort with treehouse bungalows and a lush, floral laden jungle to a chilly sports bar in Ohio. Yet the most delightful and playful use of the sets were when he harkened back to the theatrical roots of suspension of disbelief with a cut open car and airplane enhanced by dancing fluffy clouds who twirl like oversized cotton balls (designed by Hamilton's costume creator, Paul Tazewell).
The Easter matinee attendees were treated to the musical equivalent of an extra maraschino cherry by the surprise appearance of Jimmy Buffett himself! The whole cast, along with Buffett, joined the Broadway community in celebration of the 75th Anniversary of Rogers and Hammerstein's Oklahoma! by playing a version of "Surrey With the Fringe on Top" in Buffett's signature brand of folksy country music blended with island grooves.
To anyone who feels the need to cut up this sweet little slice of pure escapist paradise: pull that stick out of your bum, take a shot of tequila, relax and enjoy the easy breezy joy of Jimmy Buffett's Escape to Margaritaville – no passport or plane ticket required!
Escape to Margaritaville is now playing at the Marquis Theatre on 210 W 46th St, New York, NY 10036. Running time approximately 2 hours 15 minutes. For more information visit:
http://escapetomargaritavillemusical.com