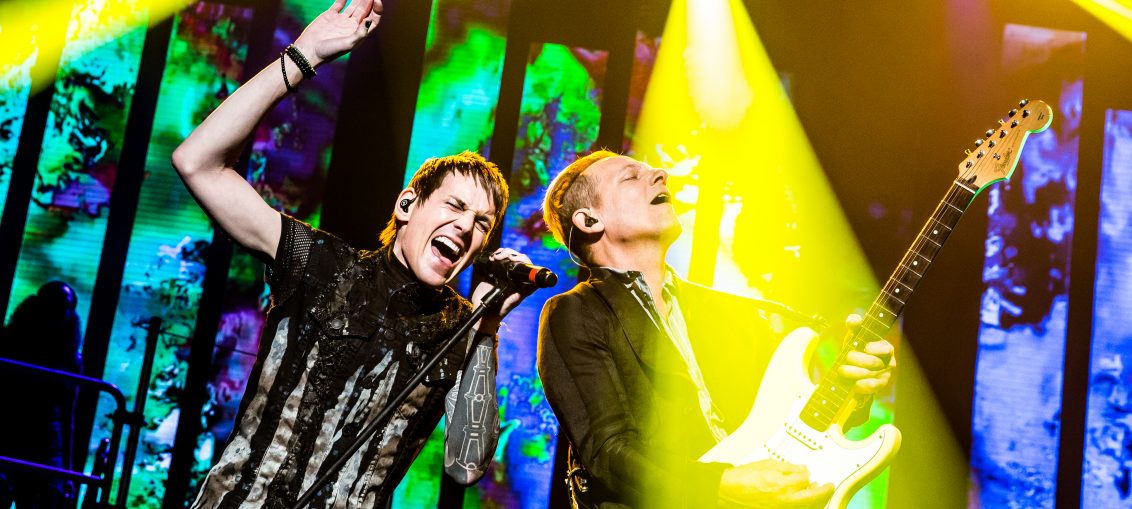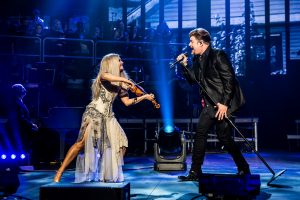 Before there was Beatlemania, there was Lisztomania. The 19th Century Hungarian composer created such a fan frenzy that it would be the envy of any 20th or 21st Century musician – for classical music, along with Opera, and their creators, were the arena rock stars of their era. This grandness of mayhem and musicality is keenly felt in Rocktopia. So if you are looking for the most astounding arias, soaring symphonic sounds or incendiary electric guitar, you needn't bother with multiple trips to The Metropolitan Opera, Carnegie Hall or MSG – they're all under one roof at The Broadway Theatre!
Rocktopia: A Classical Revolution, is the brainchild of Rob Evan – a vocalist who has performed with an astonishing number of symphonies globally, in addition to stints off and on Broadway and with the Trans-Siberian Orchestra, and Maestro Randall Craig Fleischer – a protégé of Leonard Bernstein, whose credits with top orchestras and major artists across the spectrum of classical, jazz and rock n' roll reads like a veritable "who's who" of decades worth of the music industry's most known entities. Only such well-heeled savants would dare to dream of such an undertaking, let alone bring it to a Broadway house that felt more like The Beacon or Barclays Center.
But, as the aforementioned Beatles before them, they had "A Little Help From (Their) Friends." And what friends they have! The Rocktopia Company is comprised of: vocalist Chloe Lowery (who is making her Broadway debut but was the most physically dynamic and fun to watch); Broadway, rock and small screen sensation, Tony Vincent, best known for his searing sound on the second season of The Voice; another The Voice alumni – the soulful and sultry Kimberly Nicole, aka "the rock ballerina"; operatic enchantress Alyson Cambridge, who brings all of the glass-shattering glory with her soprano; and last but not least – Pat Monahan, the Grammy-winning, multi-platinum album selling lead singer of the 2000's indie rock band Train.
The music is provided by the capable hands of speed-dial session player favorites: Mat Fields on bass, Alex Alexander on drums and Broadway veteran Henry Aronson on piano, who's acted as musical director for just about every pop and rock-based musical that's come to Broadway. The seraphim violinist, Máiréad Nesbitt, blonde-haired and cream clad, and the diabolical guitarist, Tony Bruno, flank the singers like the perpetual Angel and Devil sat upon one's shoulders, acting as lead players and propelling the emotional archs of the songs. These sounds and sights are completed by the breathtaking New York Contemporary Symphony Orchestra and the New York Contemporary Choir, both featuring the crème de la crème of an a la carte selection of the best local talent (no mean feat in New York City!). Just to see them all onstage is a rare treat on Broadway.
The musical mash-up choices vary from inventive to on-the-nose. The show commences with "Also Sprach Zarathustra" by Richard Strauss, an ode to another famous opening – that of Kubrick's "2001: A Space Odyssey," which launched into shrieks of "Teenage Wastlaaand!" from The Who's "Baba O'Riley." And while many of the combinations that followed were interesting, Rocktopia really finds its energy and locks in its audience when guest star Pat Monahan's vocals reach ethereal heights in Led Zeppelin's "Stairway to Heaven." From there on it's a sonic rollercoaster leaving the audience clamoring for more until intermission!
Opera certainly plays a leading role, and hearing favorites such as Puccini's "Nessun Dorma" and "Quando Me'n Vo" intertwined with the likes of rock epics such as Led Zeppelin's "Kashmir" and The Beatles "Something," respectively, pulls at the heart strings. But the combo that held the most unexpected impact were the angst-fueled hymns: Pink Floyd's "Another Brick in the Wall" and (the most contemporary offering) Muse's "Uprising," performed with such intensity by Tony Vincent that they sent shivers down the spine – for these anthems could be easily repurposed for the "March For Our Lives" anti-gun violence protests, led by outraged teenagers, that swept the Nation the very weekend Rocktopia debuted.
The only major drawback to this thoroughly enjoyable musical marvel are the video projections, which are now standard, necessary accompaniment for most concerts, dance and "entertainment" shows. These varied from complimentary at best to bizarre at worst. The design was fine, but the content, questionable. The Planetarium and Hallmark-card style imagery was tolerable, but when it ventured into an Oscar's style memorial of deceased rock stars and then carefully (or not) chosen heroes during Queen's "Who Wants to Live Forever" and "We Are the Champions" it verged on the edge of kitsch, then ventured into full-on cultural misappropriation with Led Zeppelin's (superbly performed by Monahan) "Kashmir," a mountain range in the Himalayas (currently being claimed by Pakistan, India and China) with intense symbolism of Ancient Egypt and the Aztec Empire. Wouldn't a sweeping view of those glorious ranges have had an equal impact without the cultural confusion? In this case the imagery best served the piece when it was neutral and allowed the music to take center stage.
Rob Evan describes Rocktopia as: "If Beethoven and Mozart went to a party with Page, Plant and Freddie Mercury." It's a apt explanation of the show, felt most significantly when the heavens shook during Beethoven's "Ode to Joy" which seamlessly transitions to the modern "Drops of Jupiter," sung by Train's very own vocalist and just as much (or perhaps even more) in the encore finale – a play-on-words featuring two of the most iconic songs from both genres: "Rhapsody in Blue," Gershwin's love letter to New York, and Queen's timeless, operatic, iconic masterpiece, "Bohemian Rhapsody," which brought every voice and instrument that comprises the Rocktopia clan together in perfect resonance, and subsequently brought down the house at the Broadway Theatre – just as all rock stars, be they of the 18th or 21st Century , should do!
Rocktopia opens March 27th, 2018 for a limited 6 week run at the Broadway Theatre. Running time: approximately 2 hours 15 minutes. For more information and tickets visit: www.rocktopia.com