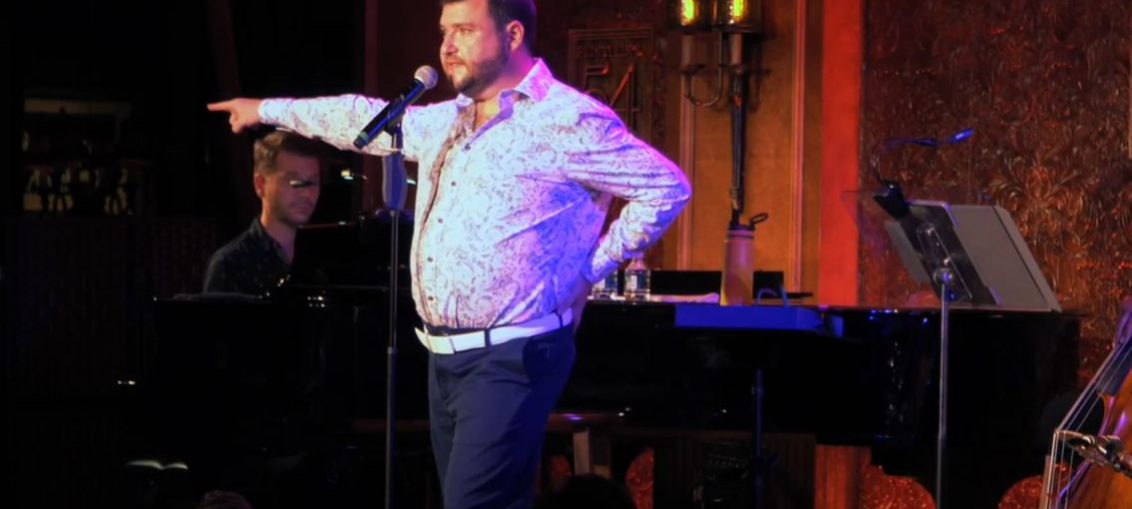 When the theaters shut down and performers could not perform in public anymore, actor and singer Todd Buonopane took to his bathtub and turned his shower curtain into a theater curtain, performing scenes and singing songs into a camera and sharing the videos on social media.
Now that cabaret venues have reopened, performers are returning to the stage. After an out-of-town tryout, Buonopane recently brought his act to the Feinstein's/54 Below stage, singing songs traditionally performed by women and celebrating some of the greatest ladies of the theater.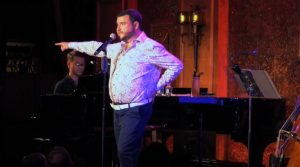 Having a live (and decidedly enthusiastic) audience to play off of gave Buonopane's interpretations of the songs extra energy that only live performances had. He started the evening with a giddy take on Kander & Ebb's "Ring Them Bells" from Liza with a Z, wearing a strip of bells on his head so that every motion created additional music. He was flirtatious and charming in "Perfect Relationship" from Bells are Ringing, winsome and coy in "Will He Like Me" from She Loves Me and encouraged a sing-along during "No Time At All" from Pippin. ("Wow, that was mediocre!" he exclaimed after the first effort from the crowd.)
Several medleys gave Buonopane the chance to pay homage to theatrical divas. A collection of five songs performed by Bernadette Peters across several shows demonstrated both Peters' and Buonopane's skill with songs by Sondheim, Webber and Herman. A trio of songs performed by Barbra Streisand let Buonopane ham up film ballads like "Evergreen" and "Papa, Can You Hear Me" before belting out a heartfelt and emotional "I'm The Greatest Star" from Funny Girl.
One impressive and exhausting medley of 16 songs celebrated a wide range of leading-lady numbers from across decades—everything from The Music Man's "My White Knight" to Wicked's "Popular," comic numbers and dramatic showstoppers alike. Buonopane made jumping from genre to genre appear effortless and found connections between each song so that they fit together into a cohesive whole—no small feat for any medley, but especially impressive given the sheer scope of the list. The medley stopped the show and earned Buonopane a standing ovation, a highlight in an already strong evening.
Best of all, the tributes were genuinely affectionate and loving with no mimicry or impersonations needed—they honored the songs and the singers equally while letting Buonopane show off his musical theater chops. Best of all, his energetic style eschewed snark for unbridled enthusiasm that was inherently infectious, balancing affectionate teasing with a true love for the artform and keeping the mood up. Notably, Buonopane balanced ballads with uptempo songs to let the energy build, release and then build again.
The band—Kevin David Thomas on piano (doubling as music director), Corey Schutzer on bass and Thomas Jorgensen on drums—kept up with Buonopane's energy and gave the songs a strong sound.
The evening ended with an unexpected gem—the song Here, from the musical Sheila Levine is Dead And Living In New York by Michael Devon. Devon, Buonopane explained, did not survive the AIDS pandemic—but everyone in that room had survived the COVID-19 pandemic and was there to celebrate the return of cabaret to one of the city's top venues.
As summer ends, it is wonderful to have some effervescent, utterly charming and delightfully fun comedy on stages like that at 54 Below. With the nights getting longer, performers like this will brighten up the mood considerably.