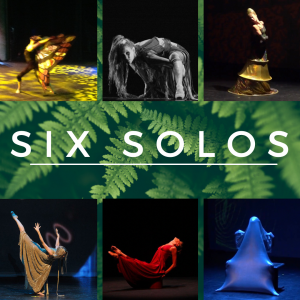 Following this unprecedented time of isolation, the United Solo Theatre Festival 2021 is back at Theatre Row.  On October 28, choreographer, teacher, and gifted visual memoirist Lynn Needle performed SIX SOLOS – Legend, Myth and Nature.
From her brief, intense on-stage warmup, Needle effortlessly connected to the audience providing deeply "interpersonal" reflections on each dance.  The "Legend" and "Myth" part of the program honored her mentors  Alwin Nikolais (1910-1993) and Claudia Gitelman  (1946-2012).  As a member of the Nikolais Dance Theatre in the 1980s-1990s, she was one of two female dancers who performed Noumenon (1953).  Nikolais (along with longtime collaborator and partner Murray Louis [1926-2016]) was a groundbreaking dance educator and artist whose work is now sadly seldom seen.  The solo is a prime example of how he combined movement with his own sound score, lighting, projection and costume design – a silver body sack with snaps across the top.  Needle told her audience that there was no story, only "imagination."  That imagination still looks new and original.  A few personal impressions of the frightening beauty she created were of a burning star, the Chrysler Building eagles and Silver Surfer.
Even if Needle didn't mention that former Nikolais company member, dance historian/write and Rutgers professor Gitelman choreographed Impromptu (1978) following the death of her child, it was painfully clear it was about loss.  During the seated solo, Needle paddled herself around in circles, pausing to pat a growing pregnant belly, suffer labor pains and the ecstasy of birth.  Her gently rocking arms couldn't disguise heavy memories.  As Schubert's piano solo gains tempo, there are frantic attempts to recreate normalcy, by repeating steps.  Grieving non-dancers go through the motions as well, which is why the images are so powerful.
"Nature" was provided by Needle's own choreography and stunning costume design  – "giving back" to nature by recycling formal wear and bridesmaid dresses.  The shredded, tattered green dryad draping worn in Forest had to be the latter.  This was the only solo Needle danced on pointe.  Rather than aiming for perfection, she suited it to her choreography and personality, ruling her domain soundtracked by David Lanz.  A sensuous sampling of Stevie Wonder's Journey Through the Secret Life of Plants gave Monarch flight.  Wearing a Venetian butterfly mask, Needle opened her paneled multi-colored cape to reveal butterfly wings.  While regal and commanding, something is off-balance, an idea brought to fruition in Shakti.  Wearing a high gold lame turban and three-tired skirted dress,, she was both a cycladic goddess and whirling dervish, wondering what was happening to the her world.  Mickey Hart's music accompanied her bewilderment.
Needle's friend and collaborator, poet and musician Teddy Gibbons, closed the evening via pre-recorded message in  celebration of his friend, the driving drumbeats of his delivery and modern dance classes, Nature and of artists and audiences finding each other again.
Running time:  80 minutes
 United Solo Theatre Festival 2021 runs thru November 21 at Theatre Row  (410 West 42nd Street, NYC).