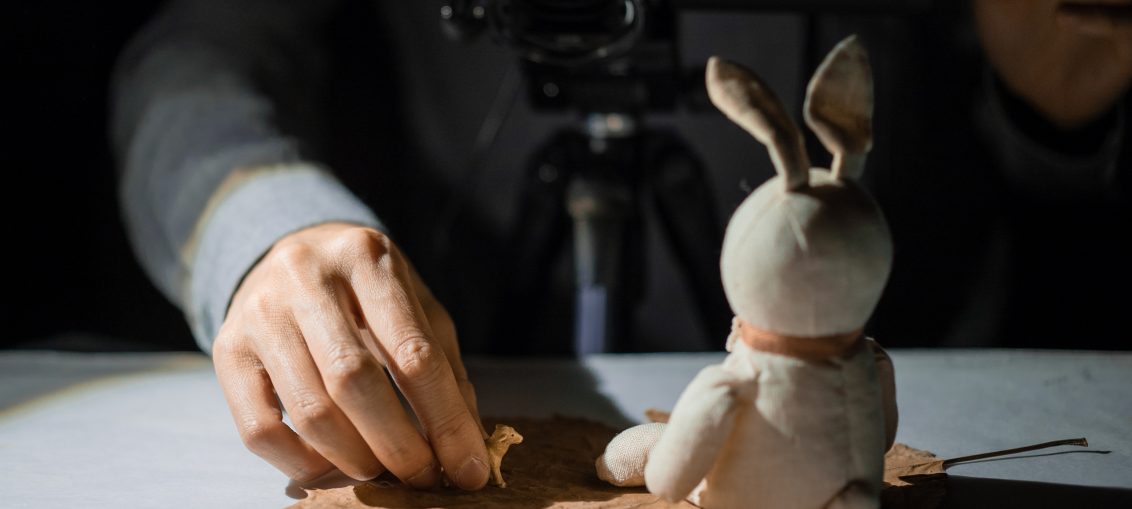 There comes the point in life when one embarks on a Hero's Journey toward self-discovery and finding the meaning of life. In the case of SHEEP #1, now playing at Japan Society through November 7, that remarkable journey belongs to a tiny plastic sheep toy. 
NYC-based Japanese artist Sachiyo Takahashi creates a unique, imaginative world and theatrical experience through her "Microscopic Live Cinema-Theatre," a real-time manipulation of miniature objects projected on a screen with silent dialogue and live musical accompaniment. 
The result is a performance that is extraordinarily tender, whimsical, and perspective-shifting. Inanimate objects become sentient beings with complex desires, interactions and emotional arcs. It's akin to live stop-motion animation where the small figurines come to life, have adventures and touch the hearts of those who witness their stories.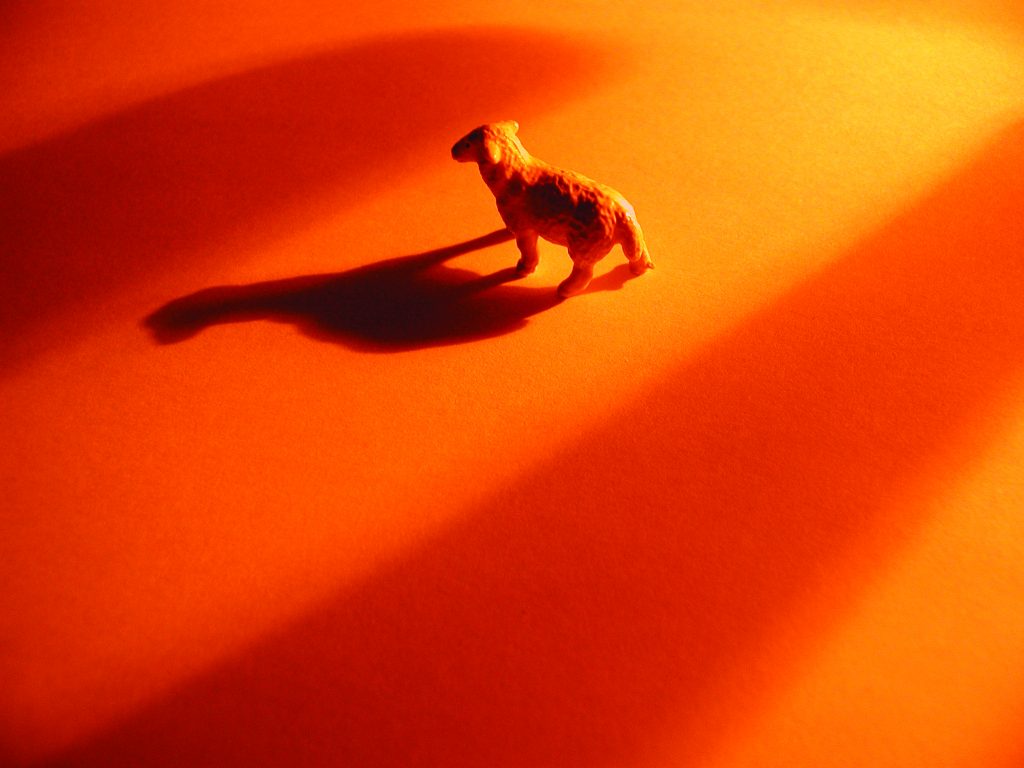 The story of the sheep's soul-searching travels is partly inspired by the writings of Antoine de Saint-Exupéry (Le Petit Prince aka The Little Prince), which gives the basis for some of the most powerful encounters with the rose girl and the philosopher. 
The acclaimed novella's insight into human nature and its ability to touch adults as much as children work well as a basis of a show where the actors are toys. The references are subtle yet poignant and form the framework, but the cleverest dialogue is Takahashi's own.
In SHEEP #1, the cast consists of a stuffed bunny rabbit, music box ballerina, stompy wind-up plastic penguins, and a thimble-sized plastic sheep. The ever-changing set fits on a tabletop but projected it consumes the whole stage; extreme close-ups offer a sense of intimacy, apparatuses attached to the camera lens offer a psychedelic, fantasy feel, and a single orange gel casts the amber glow of a sunset.
Thanks to Takahashi's deftness, skillful dramaturgy by Peter Eckersall, and the experience of builder and technical advisor Willie Gambucci, the transitions between each scene are remarkably smooth. It had the effect of peeling back a layer or drawing the curtain for a reveal, making the audience rapt with anticipation to see each new moment unfold.
One of the most enchanting segments was the introduction of the rose girl. This is where the element of intimacy and fantasy is taken to erotic heights, without any obscenity. She is portrayed (or rather, played) by a music box ballerina and a pink rose.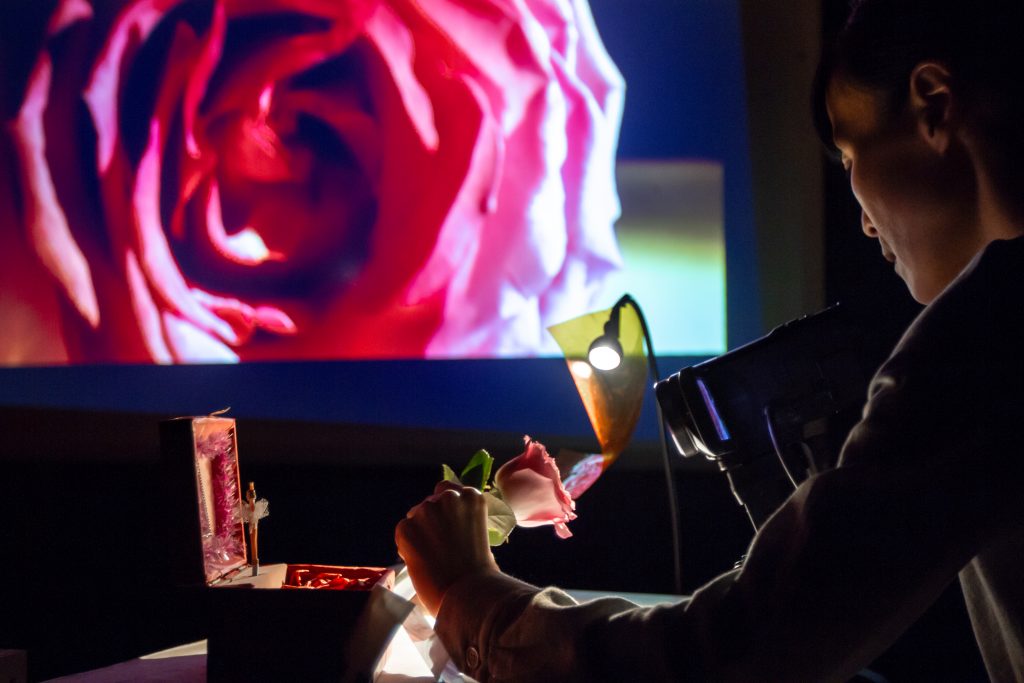 The plastic ballerina with her gold paint leotard and a tiny tuft of tulle is viewed through a peering glass that gives the feeling of a person peeking through a keyhole. She spins to the tinkling of metal music box prongs, seemingly unaware she's being watched. The pink rose petals are parted with Takahashi's tweezers in a way that would make Georgia O'Keefe and Robert Mapplethorpe blush.
Another memorable scene was the meeting between the philosopher (a stuffed bunny) and the sheep on the rabbit's star (an autumn leaf). The philosopher is akin to the characters Saint-Exupéry Petit Prince encounters on the planets he travels to in his wanderings. However, this bunny is much more genteel and evolved than those lonely spacemen. His exchange with the sheep is the only part with actual dialogue (all on strips of paper held to the camera lens like subtitles for a foreign film). It's both humorous and heartwarming.
The audience was utterly captivated by the sheep's tale. Their authentic reactions formed another soundscape element, with peals of laughter, gasps of glee, and collective outpourings of "awwww" at the tenderest moments.  
The musical accompaniment provided more than a score or soundtrack; it set the mood and forwarded the narrative as live piano or orchestrations did for silent films. The four-show run alternates two masterful musicians who are comfortable providing soundscapes for stage productions: Emile Blondel on piano (Program A) and Kato Hideki, bass guitar (Program B). 
Blondel has worked with Takahashi on SHEEP #1 before at The Tank, a small but essential New York experimental theater. Program B with Hideki is the first-time premiere at Japan Society. The music is primarily improvised, with Takahashi and her cast of object actors riffing off the musicians like a jazz group (outside of excerpts from Franz Schubert that end Program A).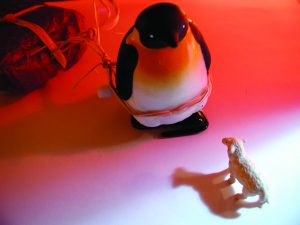 Other eclectic sounds include original electronic music by Takahashi and two moments where the twinkling notes of music boxes take center stage. The music is so entrancing that it has a slightly soporific effect, especially in a dark, cozy theater. Pianist Emile Blondel remarked that the sounds of SHEEP #1 are gentle and soothing amid the cacophonic noises of life.
In the program notes, Artistic Director Yoko Shioya mentioned that despite her love for the piece, the creator's origins, and her focus on NYC-based women theater-makers for this season, she didn't initially feel SHEEP #1 was overtly Japanese enough. This was in part due to the sheep protagonist. (According to Japanese Wikipedia, raising sheep didn't occur until the late 19th century.) Of course, her adoration of Takahashi's remarkable work and Japanese esthetic of serenity won out.
But I would argue that the intense attention, respect and reverence for objects is very Japanese. In Japanese culture, an object becomes sentient after 100 years. Though the object actors may not have earned their souls with age, they have been imbued with life from Takahashi's attentive care and the audience's appreciation, much like the story of the Velveteen Rabbit who became real through his boy's love.
SHEEP #1 is a charming, enchanting theatrical experience; it's also quite profound in its simplicity and depth. Don't be surprised if this little sheep and his companions have you looking at everyday objects differently, with more respect and even a touch of reverence. After all, they may very well be engaging in extraordinary adventures when you're not watching. 
To witness the craft, innovation, and imagination of an artist who dares to look deeply into the world of objects, go see SHEEP #1 and be transported to a magical, miniature world.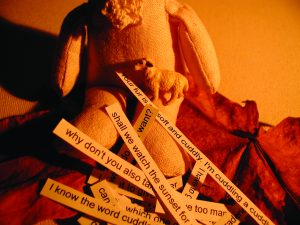 Tickets & Information:  
Thursday, November 4 at 7:30pm: Program A, with Emile Blondel on piano; Performance followed by a MetLife Meet-the-Artists Reception
Friday, November 5 at 7:30pm: Program B, with Kato Hideki on bass guitar
Saturday, November 6 at 7:30pm: Program B, with Kato Hideki on bass guitar
Sunday, November 7 at 2:30pm: Program A, with Emile Blondel on piano 
Tickets are $23 / $18 for Japan Society members. Tickets can be purchased online at www.japansociety.org or by calling the Box Office at 212-715-1258 (M-F 9:00am – 5:00pm).  
Japan Society is located at 333 East 47th Street, between First and Second avenues (accessible by the 4/5/6 at 42nd Street-Grand Central Station or the E at Lexington Avenue and 53rd Street). In compliance with CDC, New York State, and New York City guidelines, visitors will be required to show proof of vaccination and wear a proper, secure-fitting mask at each performance. View the current visitor policies and safety protocols here. For more information, call 212-832-1155 or visit http://www.japansociety.org