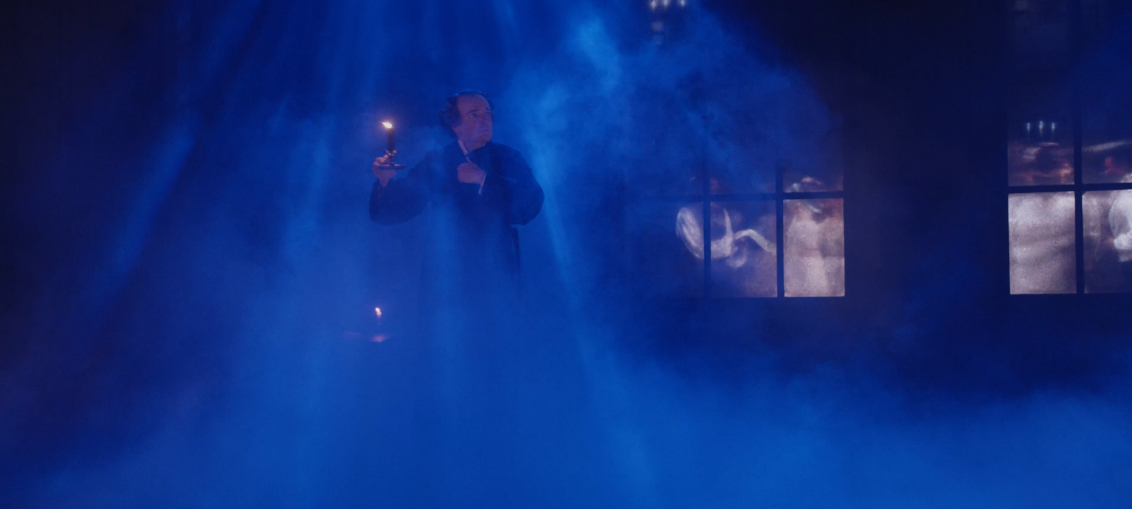 One-man performances of Charles Dickens' A Christmas Carol go back to the Victorian era, when Dickens himself gave readings of his instant hit. A new recorded production, starring Jefferson Mays, breathes new life into the tradition, and offers a genuinely moving—and truly theatrical—story about redemption and kindness.
This recording was created to benefit partner theaters around the country that were affected by the pandemic. Directed by Michael Arden, adapted by Arden, Mays, and Susan Lyons and conceived by Arden and Dane Laffrey, the filmed version is based on the 2018 production that made its premiere at Los Angeles' Geffen Playhouse.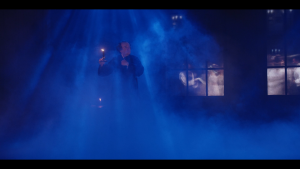 The script would appear to be Dickens' entire novella. (If there were any moments missing, I didn't catch them.) This is a fully staged production with sets and intricate lighting and projections, and after months of Zoom readings, it was thrilling to see all the different complex elements come together on the stage.
Arden's direction is a great blend of cinematic and theatrical—Mays is regularly filmed on the stage from a distance, emphasizing Scrooge's isolation and loneliness but also creating the effect of being in an audience, sitting yards away from the performers.
Jefferson Mays turns the one-man performance into a an echo of his Gentleman's Guide to Love & Murder role, making each role distinctive with individual voices and body language. His Scrooge is appropriately cranky, his Marley is appropriately creepy, and if it all goes over the top sometimes, the tone always fits the story.
Lucy Mackinnon's projections create illusions of other people. Children emerging from the rob, Ghost of Christmas Yet to Come. It's very theatrical and—again—thanks to Arden's direction, the effects still pack a punch even on the screen. Ben Stanton's lighting creates ghostly effects. Mays moves from color to color to become different characters—sickly green for Marley, firelight orange for Scrooge. Dane Laffrey's scenic and costume design do a great job of setting the scene and establishing the Victorian world of the story.
While Joshua D. Reid's sound design creates cool distortions for some of the supernatural characters, some distorting sound effects overwhelm the speech, which is a little disappointing.
Maybe one of the best things about this production is that it's genuinely creepy and spooky. This is a ghost story and Mays and Arden keep that front and center throughout the performance, making the audience, like Scrooge, earns the heartwarming ending after some real scares.