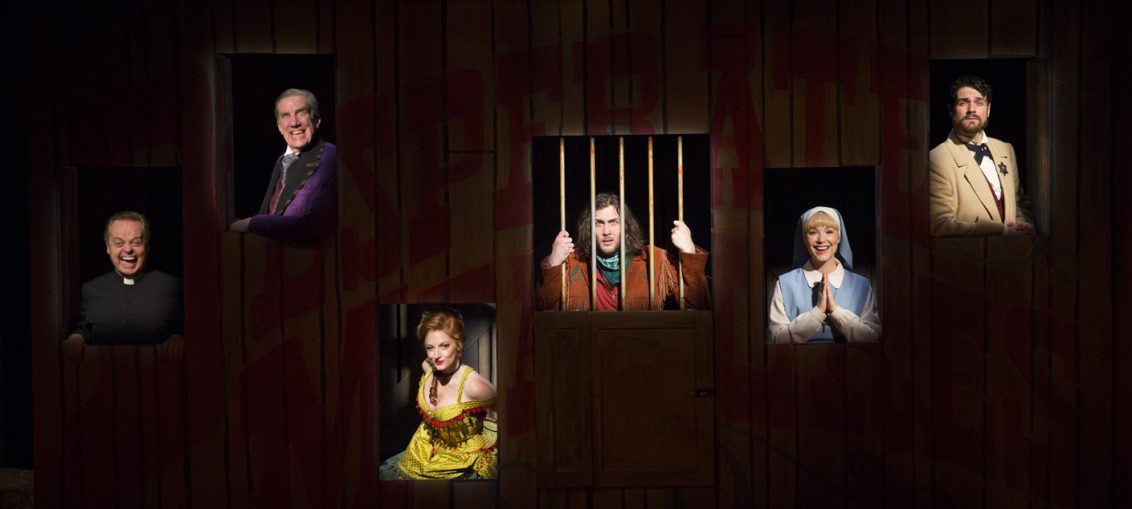 It's a rare thing when all of the elements come together perfectly to create true theatrical magic. One of the most recent examples of that kind of kismet is a delightfully riotous romp called Desperate Measures, now playing Off-Broadway at New World Stages after its multi-award winning (Drama Desk, Outer Critics Circle and Off Broadway Alliance) and numerously extended run at the York Theater last year.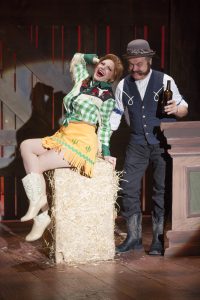 The plot, which examines how justice is served and manipulated, is loosely based on Shakespeare's Measure For Measure. The setting is the Wild West where Johnny Blood (Conor Ryan) waits in jail with a drunken, philosophizing priest (Gary Marachek) and is set to hang after a shootout protecting the honor of his lady love, Bella (Lauren Molina), a notorious woman of ill repute. The just and valiant sheriff (Peter Saide) enlists the aid of Johnny's estranged sister, Susanna aka Sister Mary Jo (Sarah Parnicky), about to be a "sister" of another kind by taking her vows as a nun, to reason with the quite unreasonable, strict yet scheming German Governor von Richterhenkenpflichtgetruber (Nick Wyman) and plead for Johnny's life. But when the only way to save his neck is to accept the Governor's most indecent proposal, Sister Mary Jo and the Sheriff must team up with an unlikely ally, Bella, to deceive the Governor and save Johnny without sacrificing the Sister's maidenhood.
Desperate Measures is a fast-paced, cheek-aching musical comedy masterpiece! What makes it work so well isn't any one aspect but all combined. The writers, Peter Kellogg (Book & Lyrics) and David Friedman (Music), have developed the piece for 15 years until they felt was just right, resulting in the York Theater's success which caught the attention of veteran Producer Pat Addiss, who believed in the show so much she wouldn't stop until it found the right (more commercial and accessible) home.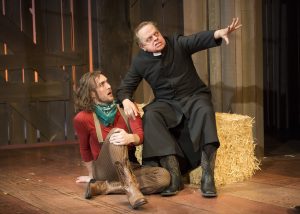 The eureka moment in the writing process occurred when Kellogg flipped the script to rhyming verse, a nod to the Bard whose work inspired the musical. The results are always clever, sometimes utterly ingenious wordplay that has the audience uproarious with laughter. Friedman has created a score that bounces gleefully and seamlessly from traditional musical theater styles to country western twang to Spanish flair and even a waltz. All of the songs are memorable treasures which propel the plot and characters beautifully.
But what really makes this show soar is its extraordinary cast guided by the daft direction and choreography of Bill Castellino. With merely six players commanding the stage, the show feel full and rich as a company of multitudes. The undeniable glue that holds such a show together and gets those guffaws is the company's total devotion to their characters most especially to each other. They are extremely generous performers and you can feel the familial love on stage.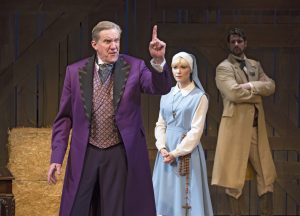 Peter Saide's stoic sheriff's almost Jean Val Jean-like sense of integrity plays well off Sarah Parnicky's fickle nun, with the voice and visage of an angel, whose character acts as the Mary Tyler Moore-esque straight woman for all of the crazy characters to play off. Conor Ryan's Gumby-like face and gestures colliding with the bawdy burlesque of Lauren Molina's Bella is felt most hotly and hilariously in their duet through the jailhouse bars, "Just For You," which is evocative of the iconic door scene in Gentleman's Guide to Love and Murder. Gary Marachek's Nietzsche-obsessed, intoxicated priest (amongst other parts) provides pastoral parody and comedic commentary but it's Nick Wyman's German Governor who steals the spotlight again and again as the villain you hate to love and love to hate.
There's also some unexpected depth and timely relevance to the twisted senses of justice (or lack thereof) buried within the humor, but the real reason to run, skip, or hop on a horse to go see Desperate Measures as soon as possible is the utter, relentless and complete joy it provides to all who attend!
Desperate Measures plays New World Stages (340 West 50th Street, between 8th & 9th Aves). Performances are Monday at 7PM, Wednesday at 7PM, Thursday at 2:00PM and 7PM, Friday at 8PM, Saturday at 2:00PM and 8PM, and Sunday at 3PM. Tickets are $59.00 – $89.00 (including a $2 facility fee). Premium seats are available. Call Telecharge.com at 212-239-6200. For more information, please visit www.DesperateMeasuresMusical.com.