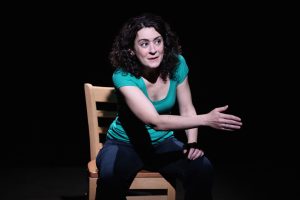 Jane Elias is a fabulist, a bard, a griot, a fabler – a healer storyteller tasked with bearing the weight of memory. She has started the necessary journey of chronicling and sharing her family's personal accounts of the Holocaust and it is a life affirming work. Her father was 16-years-old when the British freed him and the other survivors at Belsen-Bergen. The youngest survivors of the Holocaust are now in their 80's and the need to preserve their experiences becomes a vital mission, so we never forget. Jane Elias gifts us with a deeply personal memoir of her relationship with her father, Beni, a Greek Jew who survived Auschwitz and Belsen-Bergen and whose entire focus in life was his family. With only a chair and an open heart, Jane Elias, wordsmith's worlds into view. She takes you to places of elation and the darkest depths of grief to remind us of our intrinsic humanity. It's an ode to a decimated family tree, to a lineage lost but also a rousing anthem to the living.
The relationship between father and daughter is told with ease, love, honesty and humor. She welcomes you into her family unit and reveals the particular glue that binds them together. Perhaps you recognize the traditional dynamics of an over involved parent or you resonate with the desire of the young adult to individuate at all costs, but the knowledge that "daddy" lived through the hell of Hitler's death camps changes the perspective completely. Having lost so many members of his immediate family to the atrocities of WWII, Beni, holds his loved ones as close as he can and aches for that family tree to expand, replenish and grow stronger. She places us in Auschwitz, Poland, with the young teenage Beni, and we walk with him and his remaining family to Bergen-Belsen. Accounts of his time in the camps are intercut with reminiscences of Jane and her dads complex, intense communication. We see that Beni grew Jane to be strong, independent and capable of withstanding any challenge. You can see the fire coursing in her cells as she speaks of this charismatic man. He prepared her for any eventuality. In a bid to connect more with her aging father, she goes on a March of the Living tour in Poland and discovers a well of communal sorrow stored up in the stones and soil of the camps. While she was unable to grant her father his wish to dance with her on her wedding day, she is able to honor him and his legacy by retracing his arduous steps.This is a story that Jane will be tasked with to tell for the rest of her life –a ritual repetition. We will need to keep hearing it. The retelling of it will recharge communities and heal wounds and incite remembering.
Jane Elias is a magnetic performer. She inhabits a range of people from her personal history and travels, bringing them to life through detailed physicality, accents and flawless characterizations. You are drawn to her affable, warm nature and her self-deprecating humor. You can sense the huge love she has for her father as she lovingly paints him as eccentric, larger-than-life, present and engaged. "Beni" is extremely like-able –his daughter makes sure you see him through her adoring eyes.
Director Tracy Bersley, has crafted a sensational work that has been stripped of any artifice. She keeps us focused on the storyteller and her essential narrative. No bells and whistles required, only a powerful text matched by a formidable performer and moments shaved down to their core so we feel the impact of the words strongly. It is emotion wrestling theater. Bersley and Elias push your pain spots so tenderly that you can't help but let the tears flow cathartically.
Adam Platt's original music and sound design is beautifully in sync with the Elias' haunting work. He expertly prods our emotional sensors. Renée Molina's lighting design accents the contained solo universe of Jane Elias and creates the perfect atmosphere for visualization.
Poet and novelist, Ben Okri said, "The fact of storytelling hints at a fundamental human unease, hints at human imperfection. Where there is perfection there is no story to tell." Elias understands how to reveal our flaws while showing us a way forward. It is inspirational work. You feel like you are sitting around a fire and she is passing on the next chapter of the world story to the next generation and we scoop it up like rain water in an arid land.
This production was developed with Matt Hoverman, GO-SOLO.
Running time: 75 minutes
Do This One Thing for Me runs Sunday, October 14 at 12pm, Saturday, October 20 at 8pm, Sunday, October 21 at 6:30pm, Thursday, October 25 at 4:30pm and Saturday, October 27 at 4:30pm. Tickets are $22 and $16 for seniors. Purchase at http://www.fringenyc.org/basic_page.php?ltr=D#DoThis. Check in for the show at the Fringe HUB, located at 685 Washington Street (corner of Charles Street). Look for the yellow FringeNYC ticketholder flag color. For more info visit https://www.DoThisOneThingforMe.com.