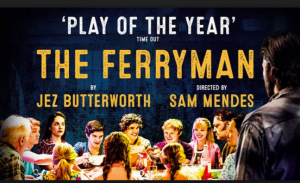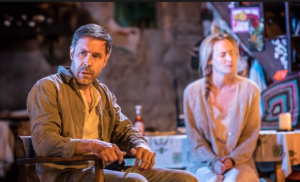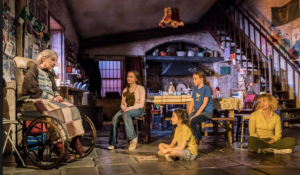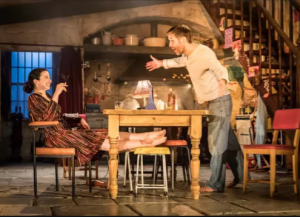 Photo Credit: Joan Marcus
When individuals talk about key commodities in life several needs come to mind. Food, water, procreation, love, money, binge watching "The Walking Dead". All of these utensils of life will come up, but more times than not a soul will say, "the love of family". To assist in propelling something larger than one self forward is in my opinion the definition of family. Websters Dictionary defines family as, "a group of people who share common ancestors". Family is your representation when you are gone. There is no opposite of heritage. To be from nowhere? There is no such thing.  You can't get away from it even if you do manage to escape. For instance, I'm embarrassed to tell people I'm from Long Island, but there's no escaping it. Above all, the Irish take family seriously, there is nothing else for them.  The story of "The Ferryman" written by Jez Butterworth and directed by Sam Mendes lands us in 1981 inside County Armagh, Northern Ireland. A former IRA activist, Quinn Carney, finds himself thrust into the middle of the ten year old disappearance and now known murder of his brother and IRA activist compatriot, Seamus Carney. Quinn Carney was played with detailed nuance by Paddy Considine as he held a seriously fierce ensemble together while his life unfolded along with his very large extended family around him. Scenes between Paddy and, Laura Donnelly, as, Caitlin Carney, Seamus' wife stand out as fittingly acted and call for some serious Tony Award consideration.
We open the play on two thugs interrogating a priest about a body that has been found. We meet what seems to be the head of the IRA who is very concerned about what could be found out about the dead body. The piece is very reminiscent of IRA films like "Millers Crossing". "The Ferryman" is an breathtaking amalgamation of John Steinbeck, Tennessee Williams, Mamet , Beckett and Shakespeare. It's the best of them all rolled into one thriller you're not going to soon forget and will probably want for more of once the cast is done with you. Only then will you understand as the third act unfolds before your eyes and your learn what true sadness and loss is.
I witnessed something amazing. Something I have never seen before in a play.  In one scene a mentally challenged character named Tom Kettle who helps the family very much as a butler and who is played by Justin Edwards offers a ring to Caitlin and pledges his undying love. His timing is terrible, the day she found out her husband was killed ten years earlier? He is ultimately rejected. As Tom left the stage after being dejected by the only woman he's loved the audience applauded. The audience stopped to clap. An applause break in a musical is expected or a celebrity, but one in the middle of a pretty low key, very sad scene? It ultimately shows the emptiness and loneliness on having n family. A scene of this nature is very rare and will be used in acting classes for decades to come. The dialogue and conversations are so rich and full. We have so many interesting characters to get to know and it all happens so quick despite being over 3 hours and 15 minutes with two intermissions. But what this piece is really about once again is family. The lengths one will go for family. And how far one might not go for family.
The Carney family kids in this show are perfect and so believable as a family unit. The keep a fun realism alive throughout family scenes. They don't let you lose sight of how important each character is. They make you feel at home. A home you might not want to hang out in, but a home nonetheless. The youngest, Matilda Lawler, who pays, Honor Carney, definitely shined with a big personality as her character allowed for some notable high spirited moments.
In act one we watch the Carney family prepare for the harvest, the most important of all the family celebrations. Every year the harvest involves a goose that must be slaughtered but that goose has escaped. A great metaphor for the wild ride we are about to be taken on. The goose also sets the stage for the best metaphor when the mentally challenged Tom kettle kills and drains the goose at the end of act one as Cailtin's son watches in the dark, as he often does.
The set is the Carney kitchen and the center of the home, the heart so to speak. As the kitchen fills more and more as the Carney family wakes up one by and thus begins a very claustrophobic feeling as the stage fills and that heart becomes clogged. Using a live baby connected the audience in such a way one doesn't normally see. The goose is also the most beautiful bird I've ever seen in my life and kudos to whomever made that choice on production. I want to hug it.
The cliffhanger the audience is left with makes the already astonishing show worth it. If I were to compare the ending to anything it would be "Macbeth" and Dunsinane Hill coming at Macbeth's Castle. Christ I hope writing about that play doesn't kill anyone. Well, that's half true. There is no way this play won't be nominated for several Tony's this season. From acting to sets, to sound, to lighting to a superb script, and of course the master direction of Sam Mendes, I have no doubt it will repeatedly be recognized in the coming years as one of the great literary works of the century.
For Tickets to the Ferryman go to : http://theferrymanbroadway.com/
Info for Bernard B. Jacobs theatre got to: http://www.shubert.nyc/theatres/bernard-b-jacobs/