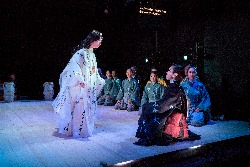 Mugen Noh Othello
The Public Theater and the Japan Society
Snapshot Review: Spellbinding
Patricia Contino, Reviewer
Cyprus is under Ottoman rule. The Venetians not only abandoned the island, but their court women and courtesans. During the 50 years since the island's power shift, they are slaves to their conquerors and memories. One is the weary, thirsty ghost of Desdemona, whose story director Satoshi Miyagi and Shizuoka Performing Arts Center (SPAC) told in their spellbinding "Mugen Noh Othello" presented at Japan Society during the final weekend of The Public Theatre's Under the Radar Festival.
Let's answer to the first question usually asked about an "Othello" performance: Yes, Kazunori Abe's Othello wears light tan makeup. Within the context of fourteenth century-Mugen Noh theatre where ghost protagonists summon spectral representations of their prior lives, this does not come across as racist. Miyagi and playwright Sukehiro Hirakawa's make very clear that his physical differences set in motion what happens in their provocative adaptation and Shakespeare's original text. If anything, this Othello comes across as an irrational, violent old man. (For a deeply offensive Othello, stream Laurence Oliver's.)
Presenting Shakespeare with a traditional theatre form that predates him and contemporary insight allows Desdemona (Micari) to reveal her past to the Pilgrim from Venice (Maki Honda), the Noh "waki" character who listens and frees her troubled soul. In the informative, enjoyable post-performance talk, Miyagi decided on Desdemona because "she never speaks for herself." Micari moved with frightening, deceptive delicacy. She reenacted Desdemona's murder by placing Othello's large glove around her neck and slowly bending sideways with each shortened breath.
Mugen Noh allows for ample expression. One actor speaks or sings for a character while another executes his or her physical movement. As the white-gowned and made-up Micari crawled, convulsed and danced, Haruyo Suzuki solemnly gave voice to her pain where she sat with the other "speakers". Miyagi admitted to stretching the tradition; Othello and Iago (Yuya Daidomon) did not have speakers. However, Daidomon served as Noh comic relief, making Iago a tantrum-prone hysteric who keeps it in check enough to manipulate his commander.
Accompanying the physical and vocal artists are onstage musicians who too are part of the play's structure. They are the instrumental chorus accompanying Desdemona on her final journey with relentless drumbeats.
Unlike Kabuki or ambitious productions of "Pacific Overtures", Mugen Noh ghost stories lack scenery or elaborate costumes. Except for Desdemona, Kayo Takahashi's costume fabric prints were in Japanese and English. The telling contrast that added to the amazing theatre experience "Mugen Noh Othello" provided.
Running Time: 80 minutes without intermission
Performances of "Mugen Noh Othello" took place Thursday, January 11 thru Sunday, January 14, 2018 at Japan Society (333 East 47th Street, NYC). Please check their website for their anniversary season programming. Shizuoka Performing Arts Center's website provides English translation.
© Copyright 2018 by Jeff Myhre, PhD, Editor. No part of this publication may be reproduced without written consent. Produced using Ubuntu Linux.