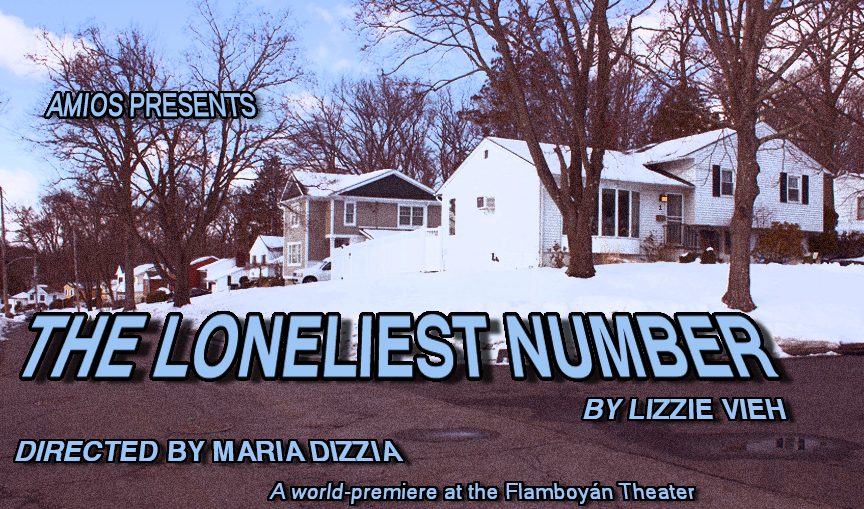 The Loneliest Number by Lizzie Vieh is one of the best written plays I've seen in years. It is about a couple who decide to invite a different third party to their bedroom every month. They take turns, one month she chooses, one month he chooses. At first it seems like the main reason is to add some spice to their long term relationship, but as the play unfolds we see there is a far deeper reason. Within two minutes I knew I was going to love this play. I love when that happens! It's just amazing to me that in such a short amount of time you can so clearly see the quality of a work. In this case, part of the reason I was captured so quickly was the brilliant acting, the hilarious writing and the immediate high stakes we found ourselves in. The nerves and excitement that the characters felt were gripping.
We meet the two characters that Wendy (Leigh Williams) and her husband John (Maurice Jones) invite to join their sex life immediately and the complexities of polyamory quickly reveal themselves. What happens when love arises where it's not supposed to or when jealousy rears its ugly head? When the societal boundaries of a romantic relationship are blurred, how far can you go? I found myself laughing a lot in the beginning of the show. So much, and so loudly, I felt a little embarrassed. I was having fun, being surprised and could easily identify with each character. I really enjoyed watching Arianne (Cassandra Paras), a tattoo covered, sexually experienced and kind adventurer and Kevin (Justin Robert Yorio), a blunt, robotic but attractive man who says exactly what he's thinking and feeling.
The thing about the writing is it found the delicate and precise balance between moving forward at a natural pace while keeping the tension, curiosity and emotions burning so that there wasn't a moment where I checked out. And I am, unfortunately, more influenced by our fast paced, technological and short-attention-spanned culture than I'd like to be, so to have kept me actively engaged for the whole 90 minute production is a feat. The Loneliest Number is Maria Dizzia's directorial debut, although you could tell that she is well versed in the art of theatre (Dizzia is a Tony Award nominee for her role in Broadway's In the Next Room by Sarah Ruhl). It is a credit to her directing that this play flowed so authentically and enjoyably. 
The cast was flawless. Jones and Williams' performances were rich in complexity, comedy and likability. They were the perfect strong yet flexible glue that the show needed. Paras was brilliant as the edgy and confident Arianne and Yorio so encapsulated Kevin that I can't really imagine him being any other way, although I assume he isn't as awkward and strange as his character. I noticed something unusual – and I can't imagine this was deliberate (but if it was… wow): for the majority of the play we were only privy to Yorio's sharp profile, rarely having the opportunity to see both his eyes at the same time. It felt like a physical manifestation of the challenge he has connecting with people and being understood. It was only at the very end, when he stood frozen in heart ache, facing the audience straight on, broken, that we properly saw his face full on. In this moment, for the first time, his emotion was so universal and powerful that there was an undeniable empathy and understanding present. We finally saw him. Exquisite. I'm getting moved all over again just thinking about it.
I chose to see this show because I'm fascinated by the idea of polyamory and the rebelling of the construct of ownership within a relationship. I hold contradictory opinions, but I understand the question, why can we only express love and experience pleasure from one person at a time? I actually wished the show explored polyamory further. It very quickly moved onto exploring illness instead and reflected polyamory as something that doesn't work without question. I hope to someday see a piece of work that explores polyamory more complexly and deeply and reveals both its positive and negative attributes.
This didn't take away from my enjoyment of The Loneliest Number nor my high recommendation. I can absolutely imagine this play being picked up and taken further, so see it now while it's still affordable. You'll have a splendid night of theatre.
Running time is 90 minutes without intermission
February 22 – March 10 at the Amios Theatre Directed by Maria Dizzia. 
Starring Maurice Jones*, Cassandra Paras*, Leigh Williams*, and Justin Yorio* Zac Jaffee* – Understudy
Set Design – Frank J. Oliva
Lighting Design – Ali Hall
Costume Design – Jocelyn Pierce
Sound Design – Nick Abeel 
Review by Julia Ippstein