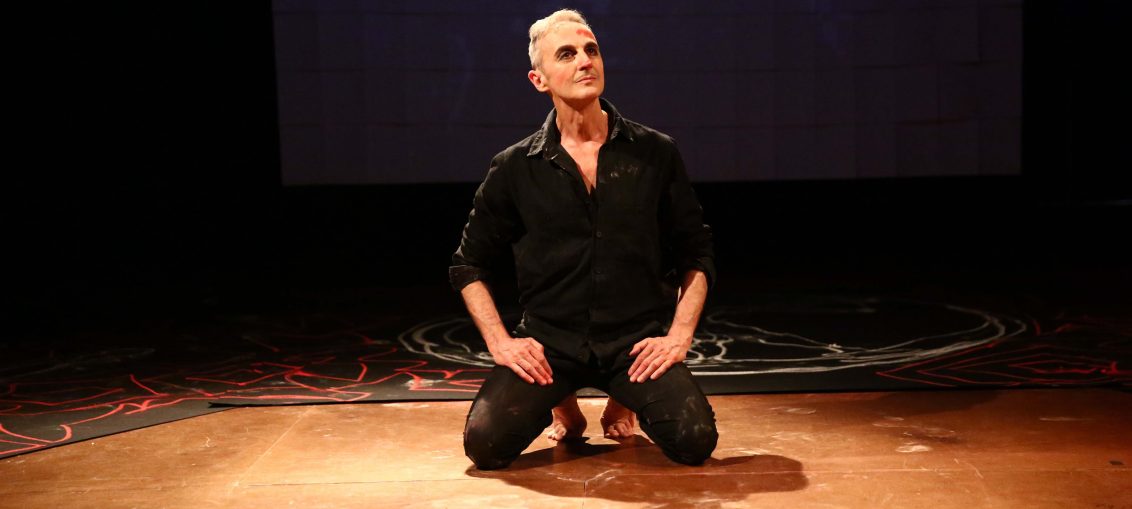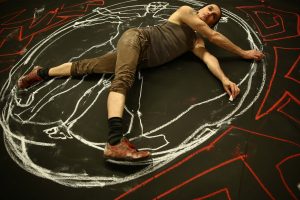 John Kelly is a conduit for all nine muses. He vibrates with artistry that seems to pour unrestricted through him –there is no resistance to the inspiration he is receiving. In this "live memoir" his mastery of dance, voice, art and text are used to elevate your senses so you feel the best parts of yourself activated and engaged. This production hit me on a cellular level and I left the theater forever changed by his ability to raise one's frequency to the stratosphere.
John Kelly shares fragments of 40 years of journal writing that act as the jumping off point into his sensual and sensitive universe. At times he sits at a table, a la Spading Gray monologue style, sharing his thoughts drawn in from across time into a microphone. Decades fuse and the lines of text cross, underline and talk to each other creating a new story from the historical archives of a man observing. There is no artifice, only honest sharing. At other times his body breaks the line to move in an original way –that signifies his unique soul glyph. He had years of ballet training but his body found its own expression that is utterly captivating. Jon Kinzel is credited as the movement dramaturge guiding this physical statement birthed from autobiographical memory.
The chalkboard painted floor then becomes his canvas. He ambidextrously does live drawing around his body that is splayed spatchcock on the boards. When he stands up he has chalked masterpieces where he lay. He captures universal design, the structure of the human's building blocks and the primacy of the line. The latter a white chalk homage to Keith Haring. While the floor becomes a chalk gallery of impermanence the huge screens dominating the space mirror the work below with digital commentary exquisitely rendered by CultureHub and John Kelly. The images, photographs, video, film extracts and journal entries are in constant dialogue with the artist, filling in gaps, creating emotional triggers and demanding attention. Joe Levasseur's intuitive and supportive lighting design seems organic, like the light blossoms wherever John appears in another guise.
Another layer is his exceptional vocal instrument. He uses the power of drag to speak/sing, beyond gender, to evoke universal truths. The voice emanating from him hits pain spots in your solar plexus and invites gooseflesh. It is clear that music has played an essential role in the development of his artistic microcosm. He responds to sound like a snake to a charmer's pungi. It awakens his core and he is a slave to it's seductions.
This artistic life statement centers around his personal history as a survivor of a generation of East Village artists in the 1980's who were decimated by the AIDS pandemic. John Kelly grapples with the epic loss of colleagues, loved ones, collaborators, visionaries, who left too soon. He aches for further conversation with them. This piece is an invitation to continue the artistic dialogue across generations to address a rift in our cultural and social continuity.
The are many collaborators who have joined forces to bring this world premiere into existence and I am deeply grateful to each organization that recognizes that we need John Kelly imprinted in our DNA.
The performances are dedicated to David Zurak, a teacher, dancer, choreographer and member of the Martha Graham Dance Company who passed away in 2017.
The exhibition "Sideways into the Shadows" was created in conjunction with "Time No Line" featuring a new body of visual art by John Kelly. It will be presented at Howl! Happening, February 28 – March 5 (6 East 1st Street).
Running time: 70 minutes without intermission
Time No Line is on from February 22-March 11, 2018, La Mama's Ellen Stewart Theatre. 66 East 4th Street.
For more information, click HERE