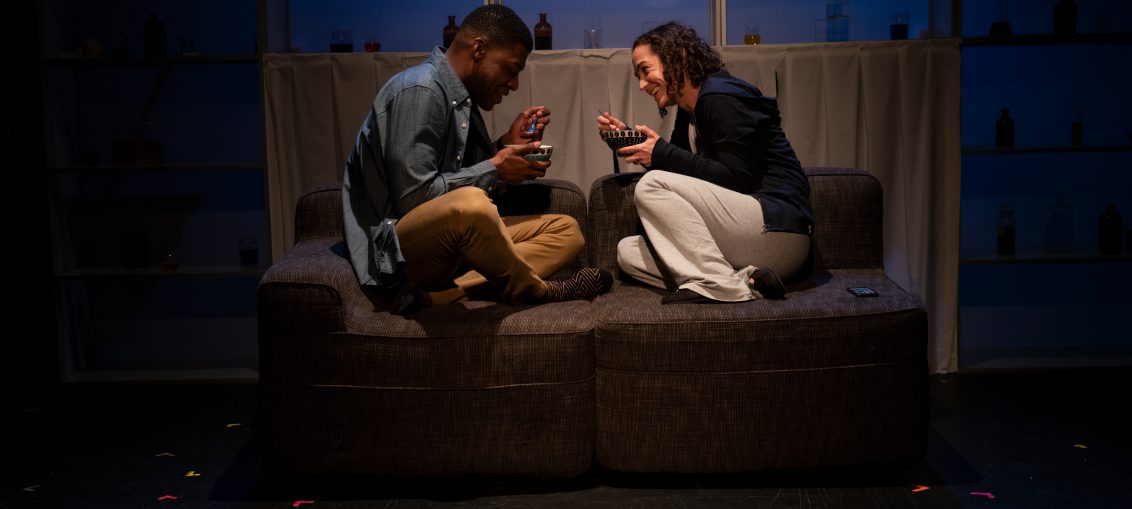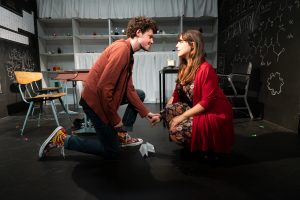 "The Spring Fling" is a satisfying merry-go-round of seven 10-minute plays that explore the theme of "chemistry" as a jumping off point for the 2018 season. This F*It Club's award-winning initiative is in it's eighth year and presents commissioned world premiere works by emerging and established playwrights. It's a sumptuous theatrical buffet where you get to experience a wide variety of talented playwrights, directors, actors and designers all in one go. All the chaff is winnowed away so we are left with strong kernels of possibility. It is thrilling to see how each playwright has imaginatively explored the theme and developed rounded, detailed characters and powerful dialogue. It a gratifying marathon of plays that gives your feel-good synapses a workout.
The first gem was "Contemplation" by Erica Saleh which was a transition play with a number of short two-minute scenes that were used as palate cleansers between each play. Mara Kassin and Richard Prioleau were the tuned in 21st Century couple experimenting with an app that offers space to ponder one's mortality. Each segment was hilarious, giving one a little kick to remind you of the superficiality of engaging with technology for self reflection. I enjoyed the warm rapport between the two skilled actors. Director Rachel Dart really captured the essence of "couple" culture and kept each scene fast paced and absorbing.
Next up was one of my favorite plays of the evening, "Henry" by Mario Correa. It's a tense interchange between two ex-lovers who accidentally bump into each other after a few years. It was drenched in the familiar anguish of this type of situation and I laughed my head off. Ceci Fernandez has seriously funny bones. Her juggling of an enormous bag of dog food created a physical unease that was insanely funny. Eric T. Miller as her old love was brilliant as the guy who just can't help putting his foot in his mouth. The two performers "dance" of catch up was excruciating and delicious to "endure". Luke Farlan's direction was superb as he had them circling, giving each other the once over that only an ex-couple, from a bitter separation, can execute.
Daniel McCabe's "Snackable Content" followed with sensational performances from Brett Epstein and Rosanny Zayas. It's a pithy discourse on our insatiable need for bite size content online. Two video creators are locked in discussion around the storyboard for their next "random" piece. The desire to craft assets with deeper meaning is weighed against the need to consume light videos that ask nothing of the viewer. Through the creative debate we discover more about the character's difficult relationships with their parents that fuels their creative approach. Matt Dickson's direction ensured an energetic pace where the humor was highlighted and the character's creative temperaments were allowed to detonate.
"Imperfect and Important" by Jahna Ferron-Smith cleverly unpacks the dilemma of the playwright seeking to stay true to her authentic voice when confronted with a lucrative publishing deal that would have her politicize and dramatically alter her plot. Liz Leimkuler as the intense, comfort eating literary agent was fantastically highly strung (my plus one's favorite performance). Dana Scurlock was enchanting as the open, optimistic playwright. Director Courtney Ulrich kept the play bristling with tension and the performances believable.
"Cost/Benefit" by Jon Kern managed to squeeze in enough content for a series in only 10-minutes. A motivational corporate consultant/love doctor seeks to transform workplace America but is actually selling influence disguised as a solution. There is an oedipal moment, a hidden affair and a dysfunctional family ruled by an over dominant mother – all in wrapped up in this short play. Monica Gonzalez, Emma Kikue, Paula Pizzi, Cesar J. Rosado and Lori Vega fuel this fabulous whirlwind with detailed characterization. Courtney Ulrich also tackled the direction for this piece with a firm hand and an electric pace.
"The Verjeena" by Mara Nelson-Greenberg is an over-the-top, blissfully absurd take on the impressionability of the youth by parental influence. Mom and son are locked in a battle to discern the "truth" about the "facts" of life. Dawn Evans and Alton Alburo (as mother and son) as  ricochet manically around the stage, standing their ground, as their 'belief' systems come under fire. They are both magnetic in their pursuit to convince the other of their "knowledge". Their wrestling of wills is expertly directed by Mikhaela Mahony.
The final offering of the evening was "Detention" by Amy Staats that tackles the taboo of a teacher/student sexual relationship in a comedic frame. "Punishment" is delivered swiftly in this classroom where the characters have to face the consequences of their actions. Adam Langdon, Allyson Morgan, Emma Kikue, Emma Orme and Federico Rodriguez's characters are thrown into this hotbed of wrongdoing and charged the ions of the air with sexual electricity. Director Danny Sharron (and Assistant Director Aaron Simon Gross) ignited the play with palpable moments of heightened emotion and unspoken yearning. The fight direction in the play was carefully handled by Alex Gould.
It's such a lot of fun to watch this carousel of creativity whip past. It's a wonderful project to support. "The Spring Fling" is a well rehearsed, sleek, sophisticated evening where you can see the evidence of a strong production and design team ensuring a high standard of work. Allyson Morgan (producer), Mara Kassin (associate producer), Polina Minchuk (set/prop design), Emily Auciello (sound design), Christina Wells Madison and David Mitsch (costume design), David Sexton (lighting design), Emely Zepeda (stage manager), Christina Woolard (asm) deserve to be mentioned for their obvious commitment to executing an extremely enjoyable night at the theater.
Running time: 90 minutes without intermission.
The Spring Fling: Chemistry at IRT Theater runs May 3 – 13, at IRT Theater 154 Christopher Street, 3rd Floor. For more information and tickets visit http://irttheater.org/3b-development-series/the-spring-fling-chemistry/