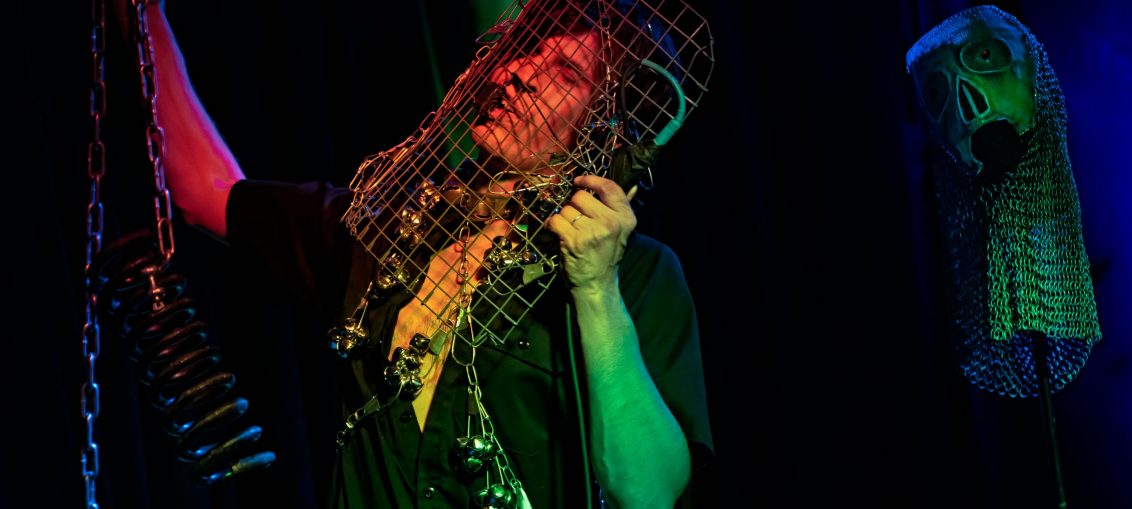 Buck Gooter was formed in 2005 by multigenerational bandmates Terry Turtle and Billy Brett. The duo met in Harrisonburg, Virginia while working at the Little Grill Collective (known for hosting early Old Crow Medicine Show sets). The quirky name is the result of Terry hurling a playful joke at Billy with his mouthful.
Buck Gooter's eclectic sound is hard to pinpoint with the limitations of a single genre. It's industrial-folk blues with electronic elements, primal screams and dark, moody, melancholic lyrics verging on the sinister. Imagine a caged beast who's a half-alien, half-mythical medieval creature hybrid stuck in a cage in a rural Virginian junkyard and you'll have a visual depiction of their sonic vibe.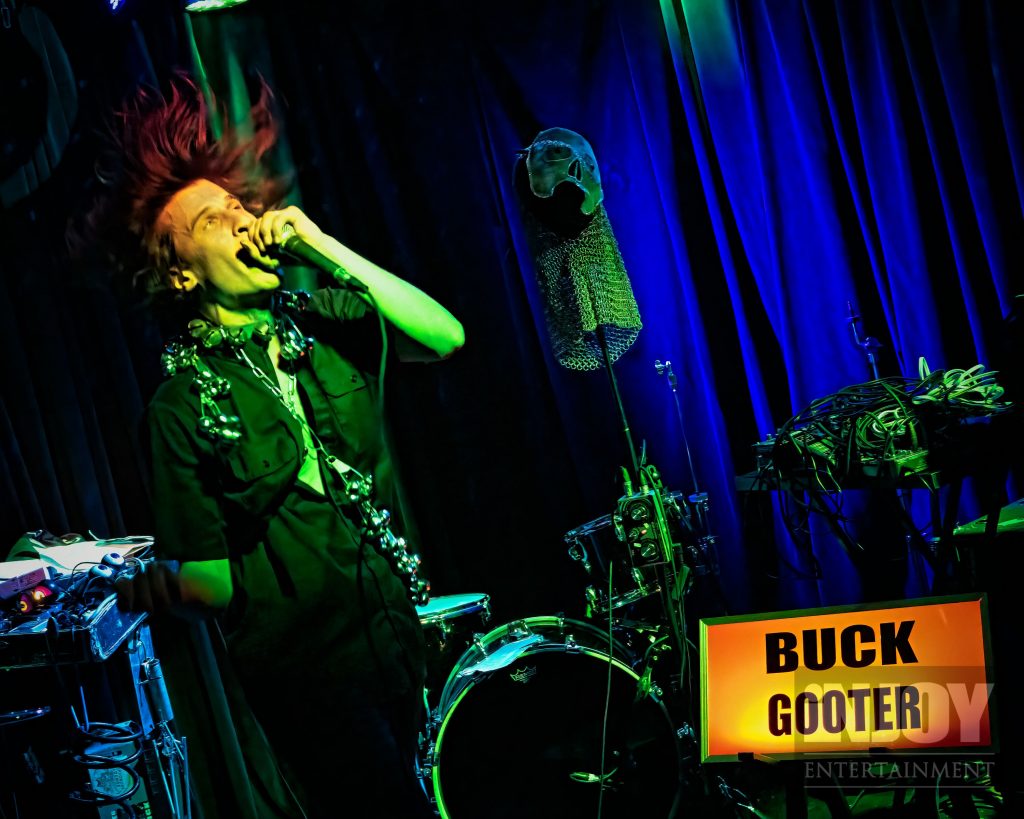 Unfortunately, Terry Turtle left this mortal coil two years ago this month. A tribute concert in his memory was held at Brooklyn's Trans Pecos that featured numerous bands and fans who gathered to celebrate Terry's legacy. That legacy continues with his collaborator Billy Brett grasping the reigns solo with Terry's effigy (a spooky-looking chain mail skull mask) accompanying him at live shows. 
Brett recently performed music from Buck Gooter's new album Head in a Bird Cage at the intimate underground Lower East Side concert venue, Berlin (aka Berlin NYC aka Berlin Under A). Meeting Brett in person, one can hardly believe this handsome, polite guy could transform into a growling monster on stage, but that's the joy of witnessing a Buck Gooter show; it's supremely theatrical! Terry's voice from the grave even makes a haunting cameo on "Nailed to a Cross" with anguished groans he recorded from his hospital bed. But don't be fooled, the onstage antics aren't an act, it's all driven by the madness of the music.
I got the chance to interview Brett and pull back the curtain to reveal some of Buck Gooter's mystery and raw, unhinged magic. (This interview was edited for clarity)
 Cindy Sibilsky for StageBiz: I want to delve into the recent shows, the band, and the direction you're taking it in now as a solo performer supported by the ghost of Terry. My first question is: You're a very chill guy in life yet you unleash a beast on stage. Is this snarling transformation a character created for Buck Gooter?
BB: I feel more chill in life than I do when I'm rocking. I feel possessed on stage. I'm not acting. What we do is pathological. The spirit of this music has always provoked a pretty drastic physical response in me. I'm here for it.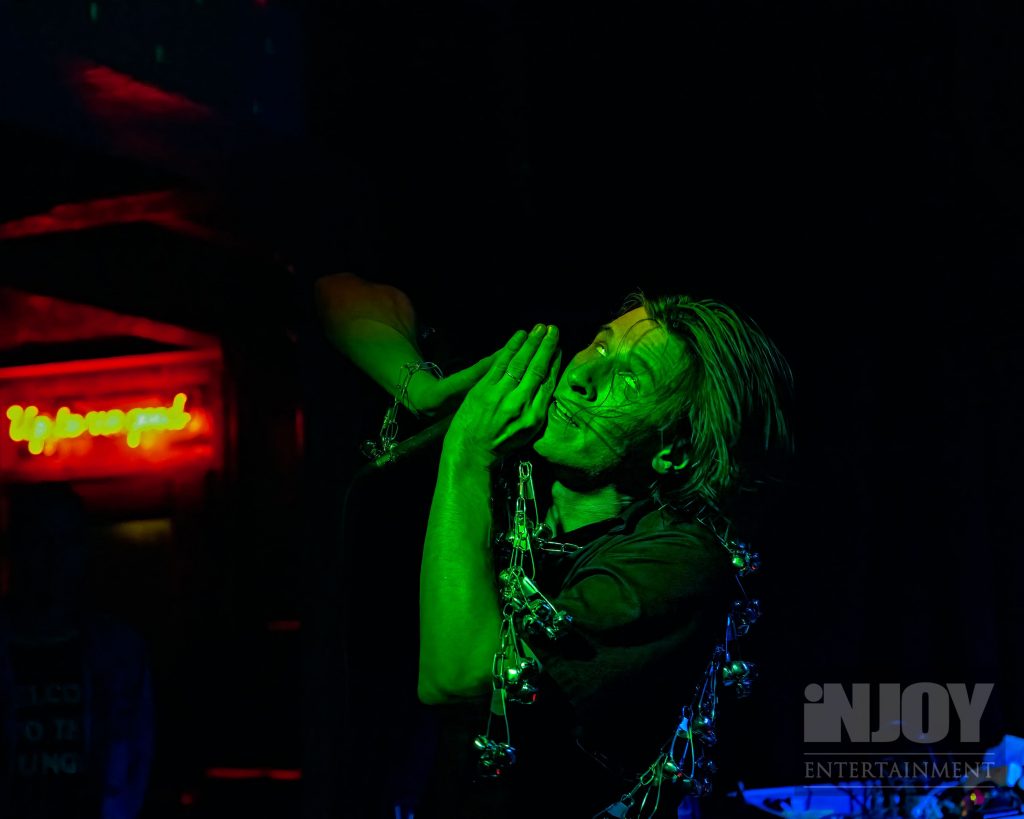 CS: The band's sound has grown and changed over time. How are you carrying on Terry's legacy and past contributions while crafting new and evolved sounds and lyrics for Buck Gooter?
BB: Terry charged me with continuing the band and playing his music. He trusted me to do whatever I wanted but to also keep playing his songs and move his message around more in this dimension. So the work continues with that. As far as new material, there are tons of Terry audio and volumes of his lyrics to draw from and incorporate him into the band in that way. His material is versatile enough that he can fit into any kind of sound or mood. There's plenty of different methods that will help accomplish this work as well. The main thing is Terry's trust in me to do what thou wilt.
CS: In Buck Gooter's music, we hear drum machine beats going through distortion pedals and simple synth and guitar riffs here and there, but they all add up and saturate. Your vocals are heavily overdriven too, but still intelligible and defined, unlike in death metal or grindcore genres. In some ways, we can hear industrial-ish similarities to NIN, early Wax Trax artists, and maybe even Rob Zombie and Al Jourgensen's experimental stuff. But, those mic'ed, FX'ed and amp'ed cymbals and other metal objects you play live, are not only theatrical but so freeform. Where do/did you/Terry get musical influences & inspirations from?
BB: As for influences, Terry always cited his guitar influences as North Mississippi Blues (RL BURNSIDE and Junior Kimbrough, specifically) fused with Ramones. I've just been trying to create some primitive and mutated version of David Bowie's "Outside" my entire career.
For more information, touring schedule and to hear Buck Gooter's music, check out; Buckgooter.bandcamp.com, @buckgooter on Instagram or buckgooter.com