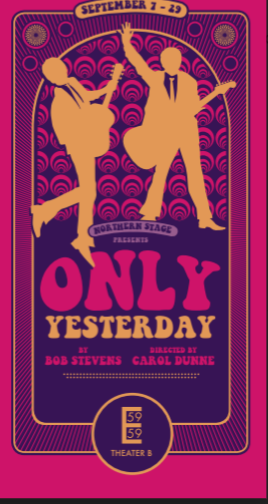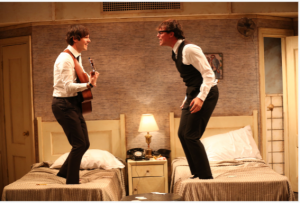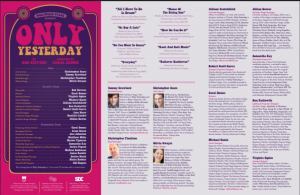 Photo by Carol Rosegg
"Half of what I say is meaningless, but I say it just to reach you, Julia".
-Julia- by John Lennon
I was first introduced to The Beatles by my mother, Georgiana Collins, when I was nine years old. A Christmas gift, the cassette tape was Rock 'n' Roll Music Volume 1. I was immediately transfixed and began what is now a life long effort to know everything I can about the Beatles. From listening to all their albums to reading several biographies to the uncountable documentaries. I've tried to see it all. So when given the opportunity to see "Only Yesterday" the first play from TV writer, Bob Stevens, based on conversations between John Lennon and Paul McCartney, I jumped at it with tremendous excitement.
I've had the pleasure to review several shows at the 59E59 Theater over the years, a factory for great works, this was a no different. Written by Bob Stevens, former Executive Producer of both "Murphy Brown" and my favorite "Night Court", we are taken on a journey through what it was like to be one of The Beatles in the beginning. We're introduced to the show by a piece of an interview with Paul McCartney talking about his relationship with John and the one time these rough young boys cried together.
When entering the 99 seat theater one is thrust into a hotel room in Key West, Florida during a hurricane that forced a cancelled show. On the set design by Michael Ganio, one first notices a picture of two canaries. One big and one smaller hanging above one bed and a missing picture frame from above the other bed. I saw this as several allusions. One, the show is about two guys talking. Two, I felt it was representative of Johns untimely demise and three it could be an allusion to Paul not actually being Paul and his untimely demise?  It could also be representative of their mothers watching over them from heaven. Or of course it could just be representative of a filthy dingy hotel room that was falling apart in a very Hispanic district at the time. We first meet their Road Manager, played to perfection by Christopher Flockton who enters the unkempt room and takes it all in while dropping off the boys luggage.
Paul is played by Tommy Crawford whose ability to go from childlike to adult of the group is very strong and juxtaposes Christopher Sears as John Lennon in a multitude of ways. Their conversation goes from how busy they are and getting no rest, to needing to write new songs to the most important element of the evening, losing their mothers at very young ages. They bring each other to tears as they talk of their lose. Extremely Interesting to watch as my own mother sat next to me. There weren't any dry eyes in the house. If you tell anyone I cried we're going to have issues.
Two other pieces that stood out were Olivia Swayze as Shirley Knapp who plays a girl stuck in a vent trying to "Meet The Beatles". Playing 13 is never easy in your twenties but shes pulls off a cuteness that both John and Paul couldn't resist. Carol Dunne did an amazing job of directing this very simple piece physically and emotionally. I admit I would have liked to have heard a few Beatles songs but my guess is the expense was too much. I truly hope Paul McCartney gets to see this piece and endorses it, though the use of his narration suggests that is so. It would make a perfect Broadway show with some Beatles tunes and a little bit of George and Ringo.
Only Yesterday will be at the 59E59 Theatre at 59 East 59st in Manhattan until September 29th. If you are a fan of The Beatles, love your mom and love great story telling this is the play for you.
For Tickets: https://www.59e59.org/shows/show-detail/only-yesterday/
Running Time: 70 minutes – One Act